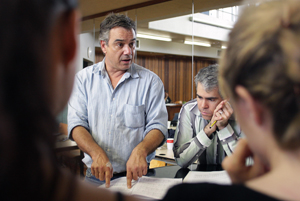 Short stories: Prof Geoffrey Hyland directing the cast of Words from a Broken String with conductor Prof Kamal Kahn (seated).
Busting the myths about Saartjie Baartman, dissecting xenophobia and reflecting on the assassination of Chris Hani are challenging subjects - even more so in the medium of opera, and when limited to only 20 minutes.
But this is the composers' achievement in Five:20 - Operas Made in South Africa. Comprising five new 20-minute mini-operas, each based on iconic issues in South Africa's history, this collaboration between the UCT Opera School, Cape Town Opera and UCT's Gordon Institute for Performing and Creative Arts will be performed from 21 to 27 November to celebrate the centenary of UCT's South African College of Music (SACM).
Associate Professor Hendrik Hofmeyr of the SACM is the co-composer (with Fiona Herbst) and librettist of Saartjie, directed by Prof Geoffrey Hyland. Hofmeyr hopes the short opera will get closer to the truth about Baartman than the modern misconceptions about her life.
"Baartman was more in control of her own destiny than many would like to believe," says Hofmeyr, explaining that Baartman had negotiated a very lucrative contract for her public appearances, and - contrary to popular belief - didn't appear naked, but in a full body stocking.
Hofmeyr also notes that some of her famous publicity photographs have a copyright notice announcing Baartman as the owner. "This makes her one of South Africa's first publishers," he says.
Tronkvoël is inspired by poet-activist Breyten Breytenbach's experiences in prison. Breytenbach was sentenced to seven years for high treason by the apartheid regime, after he was betrayed by the ANC while illegally in the country. Composed by Martin Watt and Alwyn Roux and directed by Marcus Desando, Tronkvoël makes operatic use of the artist's poetry.
Bongani Ndodana-Breen is the composer of the chamber opera Hani. Working with librettist Mfundi Vundla, Ndodana-Breen has produced an operatic interpretation of the life and death of communist icon Chris Hani, and poses some difficult questions. Also directed by Marcus Desando, Hani's unflinching look at post-apartheid South Africa questions whether those who died for South Africa's freedom would be happy with the current state of affairs.
As well as directing Saartjie, Hyland also directs Out of Time and From a Broken String. Composed by Péter Louis van Dijk, Out of Time takes on the current issues of prejudice, miscommunication and xenophobia through a journey on a 'black taxi'.
From a Broken String, composed by Peter Klatzow and featuring librettist Michael Williams, explores the timeless themes of language, culture and displacement through the story of Lucy Lloyd, the nineteenth-century linguist who recorded the now-extinct language of the San people.
"We aren't constantly creating new operas," says conductor Kamal Khan. "There are so many exciting new singers being discovered in South Africa, but what will they sing? They should be able to sing their own stories."
---
This work is licensed under a Creative Commons Attribution-NoDerivatives 4.0 International License.
Please view the republishing articles page for more information.
---