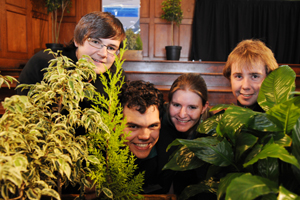 The winning team: A green building management system designed by students (from left) David Scheepmaker, Nick Kuilman, Kate Dawe and Richard Pilkington was among the winning innovations at this year' BSG Information Systems Expo.
A green building management system designed by a team of third-year students took top honours at the 2010 BSG Information Systems Expo at UCT on 28 October.
The expo is organised by the Department of Information Systems annually to showcase projects by third- and honours-year students.
The winning third-year team of Kate Dawe, Nick Kuilman, Richard Pilkington and David Scheepmaker, developed a management system for the Bandwidth Barn, an incubator for entrepreneurs under the umbrella of the Cape IT initiative. Their innovation is a tenant management system that allows building administrators to provide world-class service to their tenants while cutting down on the building's carbon footprint.
The system allows the tenants to liaise directly with the building administration about complaints and maintenance issues, book the communal boardrooms and automate the office rooms to cut down on electricity and provide electrical analysis.
Another student team consisted of John Hill, Mei-miao Chen, Jonathan Chiat
Khaalid Gaffoor and Tasneem Jaffer won a certificate of excellence for developing itGov, a web-based fault and performance management system for the Western Cape Provincial Government.
Other software innovations on show included a volunteer management system, an inventory managements system, a refugee employment management system, an educational system for high-school learners, an SPCA content management, and a training workshop inventory management.
Chief Executive Officer of BSG Greg Reis was impressed with the "awesome job" the students have done. He said BSG has a deep sense of the challenges facing South Africa, and was convinced that education is key to unlocking these challenges.
---
This work is licensed under a Creative Commons Attribution-NoDerivatives 4.0 International License.
Please view the republishing articles page for more information.
---