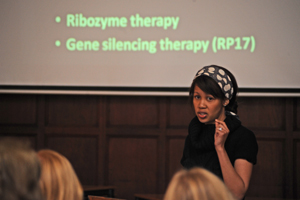 Informative: UCT student Aisha-bibi Pandor presents her research on people with visual impairment.
In addition to news of ongoing medical advances, UCT doctoral student Aisha-bibi Pandor had plenty of inspirational messages for people with visual impairments when she presented a seminar on retinitis pigmentosa recently.
Titled Seeing Through the Haze: Education, research, policy and healthcare for the visual impaired, the seminar formed part of Pandor's commitments towards her David and Elaine Potter Fellowship. It was attended by families of blind people, and also drew experts from academia, government and non-government organisations, many who stressed that being blind is not a hopeless situation.
"We could tell families that there are lots of survival options available for blind people, and that being blind is not a death sentence," explained Pandor, based in the Division of Human Genetics.
Pandor is conducting research on retinitis pigmentosa 17, an inherited eye disorder. Retinitis pigmentosa is the most common cause of blindness, apart from those associated with age or injury. Retinitis pigmentosa 17, specifically, is associated with a genetic defect on chromosome 17q23, which kills cells in the eye. Pandor is attempting to understand why the cells die, and compare that to cases where the cells don't die. In so doing, she hopes to find a treatment for the condition.
She works closely with blind patients, and that, in addition to "dynamic supervisors", inspired Pandor to follow a career in human genetics.
---
This work is licensed under a Creative Commons Attribution-NoDerivatives 4.0 International License.
Please view the republishing articles page for more information.
---