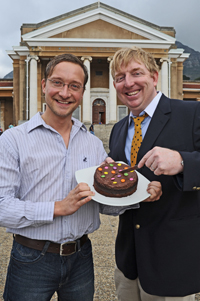 Just desserts: Assoc Prof Thomas Gstraunthaler (left) and Stuart Hendry celebrate their Distinguished Research Award, made at the annual conference of the Allied Academies in Las Vegas, US.
A recipe for entrepreneurial success has won a team from the Faculty of Commerce a Distinguished Research Award at the annual conference of the Allied Academies in Las Vegas, US.
Associate Professor Thomas Gstraunthaler (accounting) joined forces with Stuart Hendry, lecturer and course convenor of the Genesis Project in the School of Management Studies, to research effective learning processes for equipping budding entrepreneurs with the right mindset, skills and business tools.
Their research paper is titled Entrepreneurial and Accounting Education through Action-based Learning: The Genesis Project. Competition for the award is rigorous, the panel of judges awarding distinguished research status to authors only after extensive review.
Hendry has crafted a winning formula with the Genesis Project, an intensive, action-learning platform in a highly entrepreneurial environment in which students explore key aspects of entrepreneurship such as leadership, creativity, innovation and risk-taking.
Gstraunthaler, who joined UCT from the University of Innsbruck, immediately saw the huge potential for collaborative research that the Genesis Project could offer.
"It was a perfect opportunity to study the learning processes of entrepreneurs over a period of one year. The trial-and-error runs and the sense-making of both success and failure, particularly, were extremely interesting," he said.
The Genesis Project is at the heart of the popular Postgraduate Diploma in Entrepreneurship. The student entrepreneurs from this year's top Genesis business will each graduate not only with a diploma, but with a R35 000 dividend from their business. Small wonder that the 60 places on the course are highly sought-after.
Students were interviewed throughout the academic year to track their learning processes in leadership, management, accounting and financial planning. These processes were analysed against the students' experiences in the course of running their business.
In their paper, the authors show that to develop entrepreneurs, one must focus first on developing an entrepreneurial mindset, and the ability to think and act creatively, coupled with an ability to take risks. Only then do the technical aspects of entrepreneurship (for example, drawing up a business plan and cash flow statement) become relevant.
The paper concludes that entrepreneurial education should also prepare students for understanding the social and political dynamics of their environment.
---
This work is licensed under a Creative Commons Attribution-NoDerivatives 4.0 International License.
Please view the republishing articles page for more information.
---