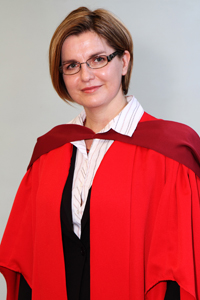 Know your rights: Prof Hanri Mostert's inaugural lecture examined the challenges of South African property law.
Although property laws from decades ago are still intact, the context in which they are applied has changed significantly.
This was noted by Professor Hanri Mostert of UCT's Department of Private Law in her recent inaugural lecture.
Titled Accountability and Dependability as Pillars of Property Law, Mostert's lecture argued that challenges faced in property law include the public's preconceived ideas, and the ability to manage contextual change in the field.
"Property law must be practised for the well-being of the community," said Mostert. "It can't function without a respect for freedom."
Quoting Nelson Mandela, Mostert said: "To be free is to live in a way that respects and enhances the freedom of others."
Mostert explained that property law has become intertwined with landlessness.
"Owner rights have never been absolute; and now, owners are expected to be more tolerant - especially with regard to unlawful occupants. The Constitutional Court expects more from owners."
Property law allows for the state to interact with the community, said Mostert, but this interaction often fails to materialise, such as in informal land transfers in townships.
"Here, people simply hand over their property deeds in exchange for payment. This is therefore an invisible economy, as the transactions aren't adequately documented. Because they are informal, they can't be traced, which also means they can't be used as collateral when, for example, applying for a bank loan. This is a widespread practice that nullifies the protection the system provides to the people."
But how big a role must the government play to ensure that people are treated fairly?
"We should be expecting the state to fulfil its obligations to South Africans, but we must also have similarly high expectations of ourselves. This must come from both owners and non owners, if the law is to work as it should."
---
This work is licensed under a Creative Commons Attribution-NoDerivatives 4.0 International License.
Please view the republishing articles page for more information.
---