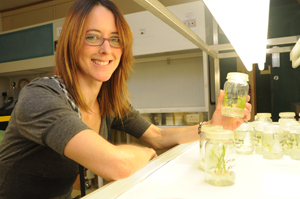 Innovative: Dr Dionne Shepherd, a winner in the Young Science Communicators Competition.
Molecular biologist Dr Dionne Shepherd has landed a Young Science Communicators Competition award in an essay competition run by the South African Agency for Science and Technology Advancement (SAASTA), the Saturday Star, and SAfm. The partnership develops the communications skills of young scientists (aged between 20 and 35) so they can promote their work in innovative ways.
Though this is not her usual line of research (she focuses on plant virology and biotechnology), Shepherd chose epigenetics for its interest value; what she calls "the soft side of evolutionary theory". Entrants were asked to pen a 700-word essay in English on any scientific or science-related subject, to inform and entertain the readers of The Saturday Star.
"Epigenetics is an incredibly exciting and new research field with potentially huge implications," she says. "It is about changes that occur in gene activity or expression, without any alteration to a gene's sequence or genetic code."
For example, in studies of mice, pregnant mothers fed a high-fat diet produced offspring that were prone to obesity and diabetes, even though they weren't fed a high-fat diet themselves.
"In other words, epigenetic changes brought about by the grandmother mouse eating a high-fat diet were passed on to her kids and grandkids even though they themselves never ate a high-fat diet. So it's not just 'you are what you eat' - your children are what you eat, and your children's children are what you eat."
The title of her article, Epigenetics: The soft side of evolutionary theory, is a play on words which she links to Jean Baptiste Lamarck, who came up with the idea of evolution in around 1800, before Charles Darwin was born.
"But his suggested mechanism for adaptation and change was ridiculed, and has been considered wrong up until this day. His mechanism of evolution was called 'soft inheritance'. Basically, Lamarck believed that characteristics acquired during an organism's lifetime could be inherited by the offspring, and that's how organisms adapted and changed."
Shepherd's 'real' research is focused on a developing resistance in a maize virus (the maize streak virus) that can wipe out a farmer's entire crop.
She has already won the 2008 Department of Science and Technology's Best Emerging Young Scientist category at their annual Women in Science Awards, and was featured in Cosmopolitan Magazine as one of their Fun Fearless Females in the same year.
---
This work is licensed under a Creative Commons Attribution-NoDerivatives 4.0 International License.
Please view the republishing articles page for more information.
---