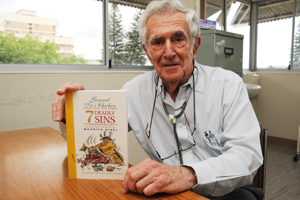 Healthy humour: Emer Prof Maurice Kibel is the author of General Tso's Chicken and the Seven Deadly Sins: A collection of rhyme and reason.
General Tso's Chicken and the Seven Deadly Sins: A collection of rhyme and reason might not sound very medical a title for a book, but this collection of comic poems and songs is the latest release from paediatrician Emeritus Professor Maurice Kibel of UCT's Child Health Unit.
Illustrated by renowned cartoonist Tony Grogan, General Tso's Chicken is described as a celebration of a lifetime of words, music and medicine, written with good humour and an empathetic pen.
Kibel's collection of poem‐cum‐songs, were often written and performed for special occasions, both with and without music. Many of his works' subjects are instantly recognisable to those in the medical fraternity.
"Using onomatopoeia, alliteration, and assonance, limerick and metaphor, his poetic commentary invariably sows discord among brethren," said dean of the Faculty of Health Sciences Professor Marian Jacobs.
"But this is discord of the most joyful kind, spread with generosity, and with a talent that is larger than life - for which we commend this very special man."
This is a sample piece from the book:
STAN
There isn't a woman or man
Who can doctor as well as our Stan;
Be it veins varicose
Or a boil on your nose
He's the best from Beirut to Japan.
He's good if you're needing a shrink,
Or you're thinking of taking to drink;
At the end of the day
With a cheque you will pay,
But be sure that there's plenty of ink.
---
This work is licensed under a Creative Commons Attribution-NoDerivatives 4.0 International License.
Please view the republishing articles page for more information.
---