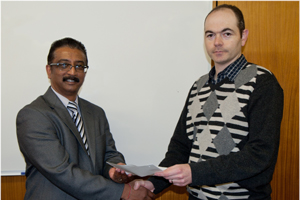 Innovative: Dr Michael Locketz, seen here with Prof Dhiren Govender (left), has won the Pauline Hall Book Prize.
The award of the Pauline Hall Book Prize to Dr Michael Locketz of the Division of Anatomical Pathology at UCT is fitting in many ways.
It was, firstly, the late Professor Pauline Hall who stimulated Locketz's interest in both liver pathology and research, and who would supervise the initial laboratory phase of his MMed dissertation - which won him the award - prior to her return to Australia in 2005, where she died in 2007.
"Professor Hall was an inspiring mentor to many registrars," Locketz said. "Her enthusiasm for liver disease in particular, and research in general, was infectious." The accolade is given to a best postgraduate research project in liver pathology, but only when a worthy candidate has been nominated. (It has not been awarded for the past few years).
Locketz's thesis was titled Fibrolamellar Carcinoma of the Liver: an immunohistochemical study. In it he comprehensively documented the occurrence of fibrolamellar carcinoma, a rare form of liver cancer, in South Africa, comparing South African cases of the disease with cases of ordinary liver cancer from South African children and adults, and American adults.
This comprehensive documentation of the occurance of fibrolamellar carcinoma in South Africa was the first of its kind.
---
This work is licensed under a Creative Commons Attribution-NoDerivatives 4.0 International License.
Please view the republishing articles page for more information.
---