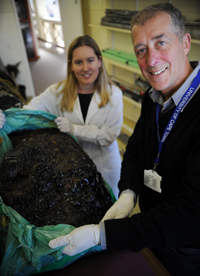 Mine of information: Prof Mike Meadows and doctoral researcher Lynne Quick explore the past as they dig into a dassie midden.
Unlike a flaky dog who will do his business all over the yard, a rock hyrax - aka dassie or Procavia capensis - will, for his number ones and twos, go to the same spot as the rest of his colony, year in, year out.
For paleoenvironmentalists keen to paint a picture of long-term climate and vegetation change, that toilet etiquette has made the diminutive dassie a near-unrivalled collaborator. Over time - tens of thousands of years - these sticky and eventually boulder-sized dunghills or middens, made up of urine and faecal pellets, trap stable isotopes (atoms) and pollen that are chronologically stratified, one layer neatly stacked atop another. Then haul a generous chunk of hardened midden to your lab, carefully carve out a wafer-thin slice, radiocarbon date it, cross-check your pollen and, voila, you have one of the most accurate and high-resolution - as sensitive as year by year - records of changing climate and vegetation patterns.
This is exactly what Professor Mike Meadows and his students in the Department of Environmental and Geographical Sciences have been doing for many years. But while they have been limited to dassie colonies in the Western Cape, Northern Cape and Namibia, they can now cast their nets wider thanks to the €1.4 million (around the R13 million mark) in funding secured from the European Research Commission by one of Meadows' former postdoctoral research fellows, Dr Brian Chase.
Attached to the University of Bergen in Norway but based in France, Chase will serve as principal investigator and Meadows as co-investigator on a five-year study, HYRAX: Rock Hyrax Middens and Climate Change in Southern Africa during the Last 50 000 Years. With Cape Town as base camp, the scientists will strike out for dassie colonies in three different directions - the first bearing north along the west coast deep into Namibia; a shorter stretch along the south coast into the Eastern Cape; and then they'll follow a beeline inland, cutting across the Northern Cape, the North West Province and Botswana before ending in Zimbabwe.
In the largely semi-arid and arid regions of Southern Africa, dassie middens trump just about anything else in a paleoenvironmentalist's arsenal, such as organic-rich sediments that are restricted to wetlands, explains Meadows. The archive also more than matches the best sources in Europe - the geochemical and fossil record captured in varves, annual layers of sediment found in Sweden, Norway and the like, which provide data of changing environments for the models that are used to forecast future climates.
"The beauty of the hyrax middens is that they accumulate, sometimes for many tens of thousands of years, more or less continuously," says Meadows. "And to have records at that temporal level of resolution, I think is a major breakthrough."
With that record in place, scientists can follow a climatological timeline and then better tell what should be happening over the next few hundred years.
---
This work is licensed under a Creative Commons Attribution-NoDerivatives 4.0 International License.
Please view the republishing articles page for more information.
---