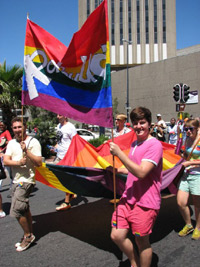 Pink activism: RainbowUCT, led by Dylan van Vuuren (right) during an earlier march through the Cape Town city centre to protest against the violations of gay and lesbian rights.
UCT has turned pink this week as RainbowUCT, a student-run lesbian, gay, bisexual, transgender and intersex (LGBTI) group, in conjunction with the university management, hosts Pink Week to celebrate and promote sexual diversity.
Pink Week begins today (October 4) with the re-launch of the 2007 The Closet Campaign, which was intended to celebrate South Africa's achievements in advancing civil rights for LGTBI people, and to highlight the human rights violations that still occur across the country.
"In placing a closet at the heart of the campus (Jameson Plaza), our society aimed to make a statement both about the pervasive presence of gay people in the university community (and other communities), and the fact that the LGBTI community still faces discrimination and prejudice," explained RainbowUCT chairperson, Dylan van Vuuren.
Throughout the week, the pink police - 20 students in pink overalls - will encourage people to "engage with the closet" and will hand out information around the Jameson Plaza.
Other events this week will include talks, sexual health campaign exhibitions, Gay Day on 7 October and the screening of For the Bible Tells Me So documentary.
For more information on the group, please visit the RainbowUCT website and their group on Facebook (search for RainbowUCT).
---
This work is licensed under a Creative Commons Attribution-NoDerivatives 4.0 International License.
Please view the republishing articles page for more information.
---