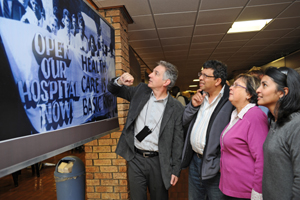 Compulsory viewing: VC Dr Max Price (left) views the Steve Biko Memorial exhibition. He was joined by (from left) Assoc Prof Denver Hendricks, Prof Marian Jacobs and Dr Roshan Galvaan.
The Steve Biko Memorial exhibition, currently on show at UCT's Faculty of Health Sciences, will likely elicit disturbing memories for many South Africans born before 1994. For younger viewers, the exhibition reflects just how far apartheid affected the provision of health care in South Africa.
On loan from the Wits University-based Adler Museum and presented by the faculty's Transformation Portfolio in commemoration of Black Consciousness Movement leader Steve Biko's death, the poster exhibition uses photographs, news articles and historical information to explore the interplay between apartheid, health and health care, and draws out some implications for the present and the future. Many of the ethical issues that confronted health professionals under apartheid still challenge them in different guises in the 21st century.
Vice-chancellor Dr Max Price noted that the exhibition was created while he was a dean of the Health Sciences Faculty at Wits and out of a realisation that the reality of apartheid remains foreign to many black and white students born after the release of Nelson Mandela. The show helps them to understand the current status of health care - and what needs to be done to change the situation.
Price suggested the show becomes compulsory viewing for health sciences students.
Among the themes is a story of the origins of the inequalities that existed in the provision of health care in South Africa, how apartheid affected health care, the way health became a vehicle for the anti-apartheid movement locally and abroad, the abuse of human rights by doctors, and the ambiguous roles of academics at certain medical schools and health science faculties.
"Some academics recognised that apartheid was wrong but were unable to practice what they believed in," Price noted.
Professor Marian Jacobs, dean of the health sciences faculty, reminded staff and students that the struggle is not over, and challenged them to share ideas on what more needs to be done in the future.
---
This work is licensed under a Creative Commons Attribution-NoDerivatives 4.0 International License.
Please view the republishing articles page for more information.
---