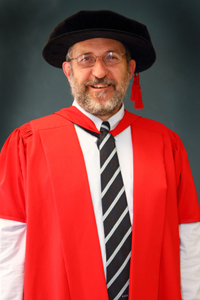 It was a double-header at the Faculty of Health Sciences on 22 September when Professors Peter Meissner (left) and Ed Sturrock (below) delivered their inaugural lectures. The lectures were dedicated to the memory of Emeritus Professor Ralph Kirsch, a mentor and friend to both.
In his welcome address vice-chancellor Dr Max Price commented: "This is the first time I've attended a double act!"
The reason for this unprecedented double feature was that Meissner and Sturrock's career paths have intertwined throughout their careers, culminating in their appointments as professors in the Division of Medical Biochemistry in the Department of Clinical Laboratory Sciences.
Using The Lord of the Rings as an analogy, Meissner gave a basic introduction to the colourful world of porphyrin rings and the genetic mutations that have formed the foundation of his work. He submitted that this is the "one ring that rules them all!" Much of his work has revolved around the R59W mutation that leads to Variegate Porphyria, which is uniquely common in the South African population, with the founder gene having been traced back to 1688, with the arrival of Dutch orphan girl who had come to Cape Town to marry a farmer of Dutch origin.
One of his closing messages was to appeal for continued study of rare diseases, emphasising that even if a disease is not common, it is worthy of study and provides unique insight into complex biological systems. Further, scientists working in such studies are able to contribute directly to the well-being of these patients and their families.
Both young academics found themselves under the wing of Emeritus Professor Wieland Gevers and in the laboratory of the late Emeritus Professor Ralph Kirsch, studying the ring that would bind their careers - the porphyrin ring, that forms the basis of so many chemical reactions in the body that are essential to life.
From the Porphyria Laboratory, their paths diverged a little, as Meissner spent some time at the University of Georgia as a visiting Fellow, while Sturrock accepted a Postdoctoral Fellowship at Harvard.
Their interests had also diverged to a degree at this point, as Meissner continued his study of porphyria, a passion which developed at the tender age of seven, when he acted as his mother's unpaid field research assistant. Doreen Meissner was a research nurse in Professor Lennox Eales' laboratory, and then young Meissner accompanied her on visits to the community to recruit porphyria sufferers for the laboratory.
Sturrock, on the other hand, had become interested in the structure and function of angiotensin-converting enzyme (ACE), an enzyme that plays a key role in blood pressure control and which led to his interest in drugs to treat cardiovascular disease, particularly for hypertension. Following the completion of his PhD, Sturrock went to the Centre for Biochemical and Biophysical Sciences and Medicine at Harvard Medical School where he began work on ACE, the protein that has occupied the last 17 years of his life.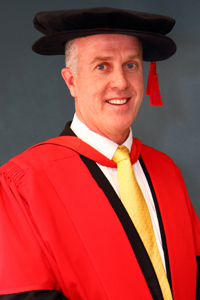 The importance of drug discoveries such as ACE inhibitors was brought into a sharper focus for Sturrock recently, following news of his sister's stroke at the age of 53. He described hypertension as one of the greatest public health challenges of the 21st century, affecting 26% of the world's adult population. It is expected to increase to 30% in the next 10 to 15 years.
Speaking about the challenges for treating hypertension, he pointed out that the faculty's own Professor Lionel Opie, an A-rated researcher, believes that there is no need for new drugs to treat hypertension, and that it is often possible to achieve optimal results with a combination of existing drugs.
Other clinicians and professionals in the pharmaceutical industry believe that newer drugs are needed as there are patients who still do not reach their BP goal with current drugs. Presently, one of the important challenges for treating hypertension is polypharmacy or the use of multiple medications by a patient. One of the ways in which this challenge is being addressed is the introduction of the polypill - a single pill that contains four drugs (Aspirin, a statin or cholesterol-lowering drug and two blood pressure-lowering drugs). This approach could also have a significant effect on the burden of cardiovascular disease in developing countries because they are all inexpensive generic drugs.
Meissner returned to the Liver Research Centre in 1993 and Sturrock joined him in 1997. Both were appointed Wellcome Trust International Senior Research Fellows, Meissner in 1997, and Sturrock in 2004. Meissner was also appointed a Fellow of the University of Cape Town in 2005.
---
This work is licensed under a Creative Commons Attribution-NoDerivatives 4.0 International License.
Please view the republishing articles page for more information.
---