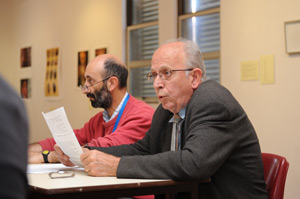 Delicate balance: Profs Leslie London (left) and Andre du Toit at the discussion on performance management and academic freedom.
Members of the academic community raised their concerns about performance management and its impact on academic output at last week's lively debate, Performance Management and Academic Freedom: Anathema or Appropriate, held at UCT's Centre for African Studies.
The matter of whether performance management represents a threat to academic freedom has received some airing at UCT in recent months. Calling for more discussion on the topic, the Academic Freedom Committee (AFC) recently hosted two events to foster debate about the issue.
At the first, the 2010 TB Davie Memorial Lecture, Professor Robin Briggs of Oxford University in the UK addressed the impact of managerialism on academic freedom in the European context. This was followed by a panel discussion on 16 August.
More recently, an AFC resolution was tabled for the attention of Senate, highlighting academics' concerns that performance management pressured academics into choosing research topics that lead to quick publication in accredited journals, rather than research projects on more complex topics - or topics whose worth lies in their social importance.
The discussion began by looking at how research performance is measured.
"NRF rating and the peer-review system encourage academics to research and publish," said Professor Rob Morrell, co-ordinator of the Programme for Enhancement of Research Capacity. "This is not a threat to, but rather a promoter of, academic freedom."
Some members of the community said NRF targets are likely to encourage less adventurous research.
"It's an incentive to produce quick-and-dirty research," said Associate Professor Andrew Nash of the Department of Political Studies.
Professor Deborah Posel, founding director of the UCT Institute for Humanities in Africa, added: "The NRF rating system rewards people who've stayed in one narrow area of research. People who move around areas of research are penalised, not recognised."
"Is there then an alternative to this system of peer review?" asked Emeritus Professor Andre du Toit. "Peer review is at the heart of academic freedom. [Having] no system of review means self-governance, and this means you can make mistakes, which is dangerous."
The panel agreed that peer review should take individual achievement into acount, but in relation to the university community.
"We should defend the idea of managing performance, but not a system of performance management," said Posel. "Where resources are scarce, it's not bad to account for what we do."
"Performance assessment at UCT, imperfect as it may be, is necessary," said Professor Daya Reddy, director of the Centre for Computational & Applied Mechanics and former dean of the Faculty of Science. "These reviews must be based on teaching and research output. There is a strong developmental component to it."
He said the assessment of research should consider the quality and impact of a person's work and not the quantity. In one case, research grants were allotted based on the number of publications alone.
"It is possible to have systems in place that fit the objectives of the university," he said.
In closing, workshop organiser Professor Leslie London, director of the School of Public Health & Family Medicine, called for more debate about the kind of university UCT academics want and what system of appraisal or assessment they believe will promote academic freedom.
"We just need to get off our bottoms and do something about it."
---
This work is licensed under a Creative Commons Attribution-NoDerivatives 4.0 International License.
Please view the republishing articles page for more information.
---