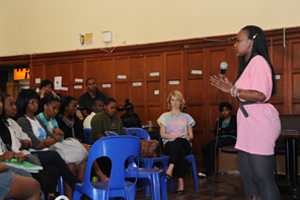 Reason for living: Phindile Sithole-Spong is vouching for a change in the way HIV/AIDS is tackled on campus
Minutes before HIV-positive Phindile Sithole-Spong publicly disclosed her status, an astonished fellow student exclaimed: "Yho!! This lady is brave. I can't do that."
The bemused student was chatting to a friend, but his views probably reflect the attitude of many UCT staff and students pertaining to HIV/AIDS: people are not open about the pandemic.
Sithole-Spong, a second-year BA student, has come to the fore.
She was speaking at the Faces of HIV event, hosted by the SRC's head of safety and security, Michell Mpike, to encourage students to speak openly about the virus and challenge stereotypes.
Sithole-Spong contracted the virus from her parents, who passed away when she was just eight. But she does not blame them. Although she lived happily, she was always a sickly child with "weird diseases". She was diagnosed with a full-blown AIDS during her gap year.
This took her by surprise.
"I had never been skinny, I was wearing size 34; how could this be?" she said. At first, her CD4 cell count was as low as two, but it has now risen to 900, thanks to medication and emotional support, which is vital, she says.
"You can take anti-retroviral medication, but people living with HIV also need support. We need people to talk to. It is an emotional thing."
The 21-year old said that being diagnosed with the virus had changed her life completely.
"I can't smoke, I can't drink (excessively), I may not have kids, I have to eat a balanced diet to stay healthy. Everyday is a mission. You try to be this person, but you are always insecure."
Mpike said she hoped that Sithole-Spong's example would help UCT staff and students to be more open about HIV/AIDS.
"Because people living with the virus are ashamed, are scared and are dying inside."
---
This work is licensed under a Creative Commons Attribution-NoDerivatives 4.0 International License.
Please view the republishing articles page for more information.
---