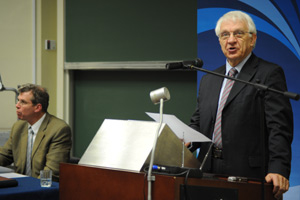 Talking point: The rise of managerialism in universities was raised by Prof Robin Briggs in his TB Davie Memorial Lecture last month. The debate will be continued on 22 September at a workshop on performance management and academic freedom.
The Academic Freedom Committee (AFC) will host a workshop in the Centre for African Studies gallery from 16h00 to 18h30 on 22 September to explore the tensions between academic freedom and performance management.
The workshop will give the university community an opportunity to reflect further on difficult questions about academic freedom in the context of performance management.
"Although long debated, threats to the academe from the rise of managerialism in higher education have been raising increasing concerns, not only as a global phenomenon but also here at UCT," said Professor Leslie London, a member of the Academic Freedom Committee.
These issues were explored by historian Professor Robin Briggs of Oxford University when he delivered the 2010 TB Davie Memorial Lecture last month. This lecture was followed by a lunch-hour debate at UCT on 16 August, which included Professor Hugh Corder and Dr Ken Hughes. Each expressed contrasting views about the place of performance management, Corder arguing that, properly conducted performance management of academic staff is vital for ensuring a responsive university and Hughes saying that performance management is "a silly cult, constituting a genuine threat to academic freedom and in the long-term causing serious intellectual decline".
In the debate, questions were raised about the nature of excellence, the notion of academic accountability, the application of performance review, and the weaknesses of research metrics.
The AFC recently adopted a resolution recognising the potential for UCT's performance management system to pressurise academics into research that values particular kinds of outputs, at the expense of genuine academic inquiry. The resolution called for further examination of the implications of performance management for the process of knowledge generation and the practice of academic freedom.
The motion reads as follows: "The Academic Freedom Committee has discussed the impact of UCT's performance management system on several occasions in the past few years. We are concerned about the effects of performance management in pressurising academics into choosing research topics which lead to quick publication in accredited journals rather than taking on research projects into more difficult topics or topics of great social importance which are not guaranteed to achieve success.
"Academics should be free to choose their own subjects for research, even if these are extremely deep, difficult or advanced.
"Other criticisms which have been made of performance management include: it is dysfunctional; it is often counter-productive; it can be used by management for inappropriate purposes; it is open to arbitrariness and abuse; and finally that it may contribute to the erosion of democratic processes and free debate.
"The Academic Freedom Committee calls for inclusive and sustained deliberation over not only the details of performance assessment, but also over the implications of performance metrics for University governance and knowledge generation."
(For further details on the workshop, please contact Carmen de Koker.)
---
This work is licensed under a Creative Commons Attribution-NoDerivatives 4.0 International License.
Please view the republishing articles page for more information.
---