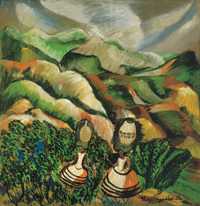 Lie of the land: Landscape painting by Gladys Mgudlandlu.
The changing face of landscape art and its various interpretations through history is the focus of a new exhibition curated by Professor Michael Godby of UCT's Historical Studies Department.
The Lie of the Land: Representations of the South African landscape, which opened at the Iziko Michaelis Collection in June and re-opens at the Sanlam Gallery, Bellville, on 14 October, comprises paintings, photographs, sculptures, maps and charts created over the centuries.
These illustrate how South African artists have approached the complex task of representing landscape, and how this reflects a wide range of issues, from the personal to the political.
"Landscape is both the oldest and the most popular type of art in this country," says Godby. "It was used to commemorate the first European explorers, and it is still widely practised throughout the country.
"Throughout history, landscape art has taken many forms because different artists in different times have wanted to communicate different things about their natural environment."
The exhibition is arranged in five sections, namely statements of awe, celebrations of methods of exploiting the landscape, commemorations of struggles over possession, expressions of poetic or patriotic feelings, and recent questions about the very means of representing landscape.
Godby sees The Lie of the Land as a sequel to his previous curatorship of Is there Still-Life? Continuity and change in South African still life painting, also exhibited at Iziko, in 2008.
"I feel that exhibitions, especially those with catalogues, may constitute a different sort of publishing, no less rigorous than articles in accredited journals, but also able to reach a much wider audience," he says.
---
This work is licensed under a Creative Commons Attribution-NoDerivatives 4.0 International License.
Please view the republishing articles page for more information.
---