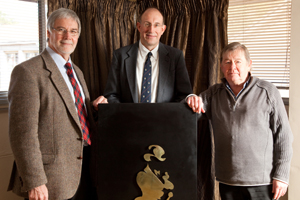 The long view: Prof Danie Visser, alumnus Simon Nicks and Prof Dave Dewar of the School of Architecture and Planning (and one of Nicks' former lecturers) toast the new Simon Nicks Sustainability Scholarship.
A bursary fund for master's studies in green architecture, sustainable design for urban areas, engineering or science focusing on sustainable technologies was launched at UCT recently.
Named the Simon Nicks Sustainability Scholarship and aimed at mainly black students, the award will contribute R20 000 to the students' postgraduate studies. The scholarship will be in place for the next 10 years.
It was formed by Simon Nicks, a planner and urban designer from Cape Town who put all his winnings from his 2010 Johnnie Walker Celebrating Strides Award (environmental category) into the fund.
Nicks, also the managing member of CNdV Africa, started his career as a housing activist helping communities in informal settlements resist the threat of forced removal. He is a committed environmentalist whose aim it is to "design places that are nice to live in with minimal impact on our planet's resources".
He says it was during his degree studies in city and regional planning that he realised that excluding the majority of poorer people from economic opportunities, coupled with the "unbridled and unthinking" use of natural resources, would leave a wasteland for future generations. "I became passionate about addressing planning problems from these two departure points," he says. "Solutions for the one often also contribute to solutions for the other, thereby setting up a series of overlapping virtuous cycles."
The scholarships will be available to candidates who have already demonstrated commitment and achievement through their undergraduate programmes, and would ideally cover course work or a Master's in Philosophy in the fields of environmental and geographical studies. The scholarship is available to city and regional planners and urban designers with an emphasis on sustainable cities, architects with an emphasis on green buildings, and engineering or science students in all fields with an emphasis on sustainable technologies.
Deputy vice-chancellor Professor Danie Visser commended Nicks for his generosity and said it was imperative for UCT, in order to realise its vision of being a research-led university, to continue to grow its postgraduate student numbers.
---
This work is licensed under a Creative Commons Attribution-NoDerivatives 4.0 International License.
Please view the republishing articles page for more information.
---