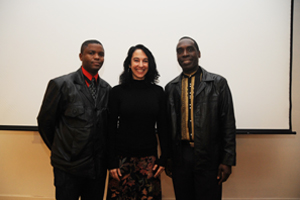 Renewed friendship: Bheki Mvovo of the Friends of Cuba Society and Dr Heidi Grunebaum of the Centre for African Studies share their views with Cuban ambassador, Angel Villa.
Cuba has had links with Africa for many years, yet it seems there are a lot of lessons that Africa, South Africa in particular, can still learn from the Caribbean country, so suggested Angel Villa, ambassador of the Republic of Cuba to South Africa.
In his lecture, Reconnecting Shared Histories: Cuba and Africa, delivered at UCT on 26 August, Villa outlined achievements in his native country that have enabled it to achieve social indicators that are on par with most first world countries, despite the long economic blockade by US and relative economic poverty.
These include, he noted, Cuba's success in eradicating the institutional and historical forms of racism (it is still proactive about addressing race issues), its collective approach in politics (described as the essential part of socialism), as well as the implementation of pro-poor policies (Cuba was declared free of illiteracy way back in 1961, among other achievements).
"Literacy is the essential human right - after obtaining education you can decide on your own, otherwise someone will tell you what to do," he explained.
Villa's talk marked the closing of the Cuban poster exhibition, Humanity Has Moved On, which chronicled the many important moments towards independence in Africa. Humanity was a collaboration between the Friends of Cuba Society (FOCUS), UCT's Centre for African Studies and Chimurenga magazine.
In his address, Villa recalled Cuba's African roots, and the country's many alliances in Africa. These collaborations had many positive results; for example, 43 000 Africans have studied in Cuba over the years, Cuban academics are teaching in medical faculties in six countries, and Cuban professionals are involved in the rebuilding of a number of African nations.
The links are of mutual benefit, Villa added, and they are still going strong.
In one case, Cuba is involved in a collaboration with South Africa and Sierra Leone to address the shortage of medical specialist in that West African nation (the country has only six such specialists).
---
This work is licensed under a Creative Commons Attribution-NoDerivatives 4.0 International License.
Please view the republishing articles page for more information.
---