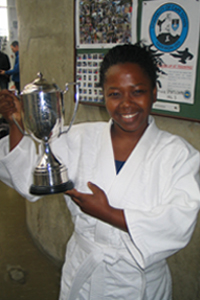 Sterling performance: Thakane Ntholi scooped the Best Newcomer Ju-Jitsuka award, conferred by the UCT Ju-Jitsu club.
UCT Ju-Jitsu ('gentle art') club is thought to be one of the oldest martial arts clubs on campus, and it is still going strong.
The 34-year-old club, whose aim is to teach members Japanese martial arts, currently has 70 members, some of whom have represented the club internationally, most recently in Denmark.
Ju-Jitsu is a form of martial arts that was used by the ancient samurai warriors in Japan. Despite its pre-industrial origins, it has practical applications in the modern world and its principles are used in training police and military unarmed combat units.
Sindy Tu, chairperson of UCT Ju-Jitsu, notes that the club focuses on unarmed, close-contact self defence, using throws, takedowns, locks and the like. "We also include basic grappling (wrestling) techniques," she explains.
According to Tu, Ju-Jitsu is a valuable skill.
"I believe that people, especially women, should have some basic defence skills to be able to manage dangerous situations."
Recently, UCT Ju-Jitsu hosted the 50th anniversary celebrations of Tokyokai Bu-Jitsu Club, their parent body. The event was attended by renowned international guest instructors, including the head of the All Japan Ju-Jitsu International Federation and 10th Dan black belt, Alexey Kunin, from the US, as well as Sorab Mowlabucus, visiting 7th Dan black belt from Mauritius, who shared their techniques and knowledge.
Included in the celebration was a prize-giving that saw UCT students received awards from the South African Ju-Jitsu Association. Winners included Muya Koloko as the best UCT Ju-Jitsuka, second Dan black belt; Kate Davies as best female Ju-Jitsuka; Graeme Paul for best pupil, orange belt; and Thakane Ntholi for best newcomer, most determined Ju-Jitsuka.
---
This work is licensed under a Creative Commons Attribution-NoDerivatives 4.0 International License.
Please view the republishing articles page for more information.
---