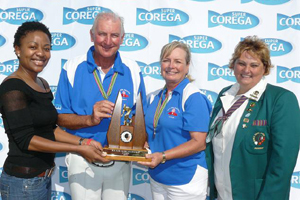 Bowling them over: UCT's Trish Steyn (second from right) and teammate Daniel Loubser receive their national mixed bowls trophy.
Champion lawn bowler Trish Steyn picked up her fourth national title when she and Western Province teammate Daniel Loubser won the South African Mixed Pairs Bowl Championship, held at the Umhlali Country Club in KwaZulu-Natal in early August.
The title, clinched in a 24-19 win over Southern Free State in the final, is the first national one for Steyn, based with the Executive MBA programme at the Graduate School of Business (GSB), since she won the SA open singles title in the 2001/2002 season. (Although she has since then stockpiled a 2004 World Championship win and a small hoard of Western Province honours since then, including the WP mixed pairs titles in 2009 and 2010, which earned her and Loubser a berth at the nationals.)
It's also the first national title for Loubser, although it took the pair a second stab at the title after their first attempt last year. For this campaign they put in a few more hours on the greens. Loubser, for example, took off a week prior to the Umhlali championships for daily practice sessions. Steyn, who bowls for the Western Province Cricket Club, couldn't manage time off from the GSB to do likewise, but over weekends the pair organised strong opposition for some practice games.
And the conditions couldn't have been better.
"The greens at Umhlali suited us as they were very similar to our home greens at Western Province Cricket," reports Steyn. "We even had a day of wind on the final Friday, just to really make us feel at home."
The pair's title is perhaps not as satisfying as her singles glory when she had to do all of the hard work herself, confides Steyn. But helping a teammate finally land his first national win in a 16-year career, she says, wasn't too bad, either.
---
This work is licensed under a Creative Commons Attribution-NoDerivatives 4.0 International License.
Please view the republishing articles page for more information.
---