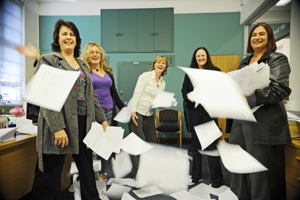 Away with papers: Linda Jones, SAP consultant, Lisa Baxter, Siobhan Evans, SAP consultant, Helen Duncan, information design, and Karen Bergsma, senior HR administrator, will soon dump the hardcopy method for the online system.
The Human Resources Department's move towards what it believes will be "an efficient and cost-effective" paperless system will take its first tentative steps when HR introduces its first interactive, online forms.
Driven by the Human Resources Systems Support Office, the first e-form is set to be launched on 16 August and will, in a first initiative, allow staff to capture and update their employees' personal details. It replaces the paper-based method that took up to six weeks, with the assistance of additional personnel, to complete.
According to business systems manager, Lisa Baxter, the new system will allow for a seamless integration into HR's SAP information system, without any intervention from HR administrators or Excel spreadsheet uploads.
Part of the Adobe Interactive Form Technology licensed to UCT, the e-form looks much like its hardcopy cousin, but with some electronic intelligence, Baxter notes.
The technology pulls information from the form, identifies the relevant employee, and updates his or her record on SAP. All this without the single click of a button - apart from the "Send" button which the employee hits to return the email and form.
"This will reduce manual effort, and will hopefully free staff to focus on more customer-service oriented issues," Baxter explains.
The initiative, Baxter believes, will also cut back on costs by reducing paper and printing costs, and providing for improved turnaround times and data quality.
The office was assisted by ICTS and Blueware Consulting to implement the system.
---
This work is licensed under a Creative Commons Attribution-NoDerivatives 4.0 International License.
Please view the republishing articles page for more information.
---