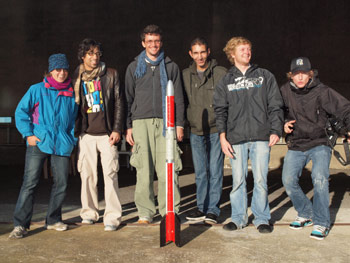 Up and away: Students at the launch were (from left) Janet Hewitson, Ziaad Jassiem, George Calder- Potts, Adrian Stevens, Oliver Hobson and Adam Barta. Picture taken by Dr Peter Martinez.
Students from UCT's Department of Engineering launched two rockets at Denel's Overberg Test Range (OTB), just outside Arniston.
As part of the team project component of their Introduction to Space Science and Technology course, final-year undergraduates and first-year master's students built electronic payloads that recorded videos as well as flight performance data of the rockets' flights.
The project's success depends on students using all their engineering knowledge to develop a multifunctional payload that must operate under the very challenging conditions of a rocket launch.
The class was divided into two teams to include a competitive element to the project. The Blue Team vied with the Red Team to develop and launch the most capable payload.
"The launch campaign is always the highlight of the course for students," said course co-ordinator, Dr Peter Martinez. "The OTB Test Range is an excellent environment in which the students are able to immerse themselves completely in the final integration of their payload and rocket to prepare it for launch."
This is the fourth year that the course has been run, and it will be offered again in 2011. For more information, email space@saao.ac.za.
View the video of the Blue Team's rocket launch on You Tube.
---
This work is licensed under a Creative Commons Attribution-NoDerivatives 4.0 International License.
Please view the republishing articles page for more information.
---