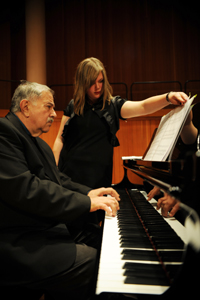 Icon in action: Prof Peter Klatzow performs while his goddaughter, Claudia Botes, turns pages.
Ask Professor Peter Klatzow about the South African College of Music (SACM) circa 1973, the year he started his career at UCT, and he simply points to an old photograph on his office wall, the college then nothing more than a few scattered small buildings.
In fact, his office looks like both a work place and a residential dwelling - he has been working from it for the last 37 years, after all.
"This is my second home," he quipped. "Now I will vacate it - without any heartbreak.
One of the few South African composers to achieve international recognition, Klatzow will retire as SACM director at the end of 2010. Recently, the university bode him farewell with a 65th birthday concert that featured the premiers of two of his works: The Six Poems of Arthur Buxton and 24 Preludes for Piano, as well as his other works The Early Afrikaans Songbook and Variations on a theme of Paganini.
He described the concert, together with the UCT fellowship he was awarded in 1986, as among his career highlights. The fellowship was just one in his bagful of accolades he earned inside and beyond UCT. These include the Molteno Gold Medal, the Degree of Doctor in Music for published work in Composition, the Helgard Steyn prize, the Nederburg Award' the list goes on and on.
Born in Springs, Klatzow taught music in Swaziland, furthered his career abroad, worked at the SABC before joining UCT where he is presently Professor in Composition. In 2007 he was appointed as director of the SACM.
He has witnessed the college growing in terms of new buildings (like the Baxter Theatre), education programmes (there were no jazz or African music departments when he arrived), resources, as well as the number of staff and students.
With the college a fairly conservative place, he had an uphill battle at times to persuade people to pick up on developing trends, such as the upgrading of technical laboratories, and purchase of new music software.
Klatzow has enjoyed working under different vice-chancellors, but singles out Dr Stuart Saunders' term as the most challenging and interesting as UCT was undergoing profound changes. "I never thought that UCT would have a black female vice-chancellor, but it happened," he chuckles.
"Stuart was incredible, working with very difficult people," he explained. "He had to steer the ship through the storm - the old nationalist government and some very militant students."
And what will he miss the most?
Students, with many of whom he has developed long-lasting friendships. The sad thing, though, is that most of them end up leaving the music industry as it is very demanding and competitive. "It is a place for only the very best."
And he is looking forward to a complete change of lifestyle, and will, come 2011, concentrate on looking after "grandchildren", gardening, and just taking things adagio.
---
This work is licensed under a Creative Commons Attribution-NoDerivatives 4.0 International License.
Please view the republishing articles page for more information.
---