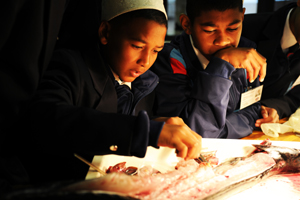 Stars in the making: Leadership College learner Yusrie Joseph tries to remove a tapeworm from a snoek, while his classmate Aslam Hendricks watches.
The Department of Zoology took its drive to keep high school learners interested in mathematics and science up a notch when it hosted an Open Day on 14 July.
About 60 Grade-8 learners from the Leadership College, a Manenberg-based maths and science school for top achievers, were given lessons on diverse topics, from insects, sharks and shark spotting, to Marion Island, the well-known meteorological and biological research station. Learners then put those lessons into practise when assisted in the dissections of sharks and moles, and removing parasites from snoek and birds.
Event organiser, Andrea Plos, said the goal was to show learners that keeping maths and science as fundamental subjects can lead to fantastic careers in science and, in this case specifically, the biological sciences.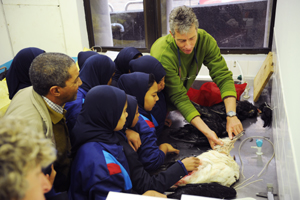 "It is imperative to address the learners at Grade 8 level, showing them the wealth of opportunity both maths and science opens," Plos explains. "Once learners decide to drop maths or science, so many opportunities and doors slam shut. If we can catch their curiosity before they make a decision like that, we have won."
The event was so successful that the department intends to repeat it next year, and extend it to other schools.
In the picture (left), Prof Peter Ryan gives learners an introduction to the biology of petrels and albatrosses.
---
This work is licensed under a Creative Commons Attribution-NoDerivatives 4.0 International License.
Please view the republishing articles page for more information.
---