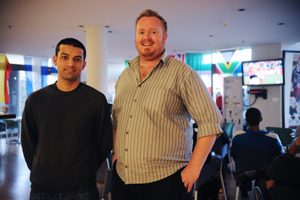 Hydrotv037: Football fuel: Nabeel Hussain and Marc Wüst made sure soccer fans in the Department of Chemical Engineering didn't miss a moment of the World Cup matches.
When a mid-game power outage recently had soccer fans around the Cape pulling out their hair in frustration, World Cup supporters in the Department of Engineering were watching the match without missing a single beat.
That's because fans there had the good fortune to watch the game on a high-definition TV screen powered by a hydrogen fuel cell. After a close study of hydrogen fuel cells - very useful as an electrochemical energy converter, scientists have found - over the past year, master's student Nabeel Hussain of the Centre for Catalysis Research and senior technical officer Marc Wüst had linked one such fuel cell to a HD television set in the departmental tea area.
(Quick science lesson: These fuel cells split hydrogen into electrons and protons. The protons pass through a polymer electrolyte membrane, while the electrons form an external electricity circuit that powers the TV. The electrons then recombine with the protons and oxygen (air) to form clean water, the process' only 'waste' product.) The tea room quickly became something of a fan park, supporters adorning the area with a colourful selection of national flags.
The fuel cell perhaps bodes well for one country still in the running for World Cup honours (and now, after their demolitions of the English and Argentines, tournament favourites). Yes, the fuel cell was originally bought from Germany.
---
This work is licensed under a Creative Commons Attribution-NoDerivatives 4.0 International License.
Please view the republishing articles page for more information.
---