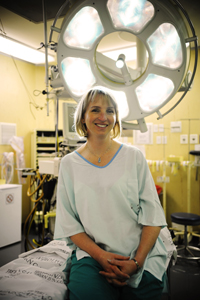 Cut above the rest: Dr Elmi Muller and her team of surgeons made history with their transplants.
UCT surgeon Dr Elmi Muller and her team have received world attention for their historic transplants of kidneys from HIV-positive donors to HIV-positive recipients.
Since carrying out the world's first such transplant in October 2008, the team has performed nine similar procedures. The surgery was recently featured in The New England Journal of Medicine.
Muller, based in UCT's Department of Surgery and a full-time surgeon at Groote Schuur Hospital, is the clinical researcher who initiated and drove the project. For the transplants, she worked with Professor Marc Mendelson of the Division of Infectious Diseases, Professor Del Kahn of the Department of Surgery and Dr Zunaid Barday of the Division of Nephrology to ensure that all clinical aspects of this complicated procedure are covered.
The chief concern in the transplantation of a kidney from an HIV-positive donor to an HIV-positive recipient, explains Muller, is the potential risk of 'superinfection'. This is when a strain or subtype of HIV triggers a more rapid progression of HIV in the transplant recipient.
Every care was taken, however, says Muller. All organs came from donors who had died of unspecified causes, and who had received no antiretroviral therapy. They also had no history of opportunistic infections or cancer, and had no evidence of kidney disease on biopsy.
In all cases the transplant recipients enjoyed good renal function after the transplant, without the need for dialysis.
"We have the biggest HIV population in the world, and therefore we have a lot of HIV positive donors," says Muller.
They are mostly ART-naïve, which means they have a low chance of carrying an ART-resistant strain of the virus.
The transplant was prompted partly by her own research interest, partly by the need, says Muller.
"We have a lot of HIV positive patients with end-stage renal failure in South Africa."
---
This work is licensed under a Creative Commons Attribution-NoDerivatives 4.0 International License.
Please view the republishing articles page for more information.
---