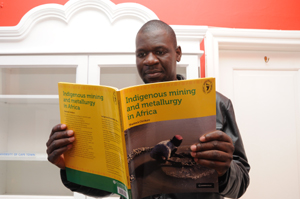 Most modern mines are located in spots that were first mined in pre-colonial times, demonstrating that indigenous prospectors had knowledge of the geology and resources around them, according to UCT's Dr Shadreck Chirikure.
In his book, Indigenous Mining and Metallurgy in Africa, Chirikure (of the Department of Archaeology) says this was particularly the case with iron, copper and gold mines.
He states that although the socio-political and economic landscape has changed since the 19th century, Africans then had knowledge systems that must be studied, documented and preserved.
"These indigenous knowledge systems help to define the identity of the continent and its heritage," he notes.
The 96-page book is designed for high school learners, undergraduates and the general public. It was commissioned by Cambridge University Press in 2008 in its Indigenous Knowledge Library Series.
Chirikure says he realised that people often think that almost all technologies began with industrialisation, which was introduced during colonialism.
"Indigenous people had their own technologies, such as mining and metalworking, and these at some point produced better products than those in Europe," he claims.
"For example, missionary David Livingstone was surprised by the high quality of iron produced by the Tonga of modern-day Zambia and Zimbabwe in the 19th century."
Some ideas from the book are to be used for the forthcoming documentary on mining in South Africa.
---
This work is licensed under a Creative Commons Attribution-NoDerivatives 4.0 International License.
Please view the republishing articles page for more information.
---