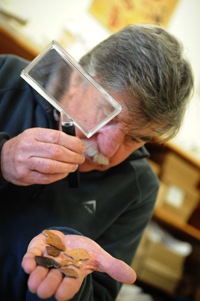 Birds of a different feather: The carvings on these egg shells, found by Prof John Parkington and colleagues, display behaviour that sets modern humans apart.
About 300 pieces of ostrich eggshell, marked with repeated patterns and thought to be around 65 000 years old, could well be the latest landmark in symbolic thought among modern humans.
So argued a group of international scientists, including UCT's Professor John Parkington, in an article published in the journal Proceedings of the National Academy of Sciences (PNAS) earlier this year. The shell fragments were unearthed over some 10 years by Parkington and Cedric Poggenpoel, of UCT's Department of Archaeology, along with French colleagues at the Diepkloof Rock Shelter, a cave near Elands Bay on the Western Cape's west coast. The two have been excavating the site since the early 1970s - when they first happened across the shells - and in collaboration with the Institute of Prehistory and Quaternary Geology at the University of Bordeaux since 1999.
(They initially turned a blind eye to the shells, as they were more interested in cave's archaeological finds of the more recent Stone Age of between 10 000 and 20 000 years ago.)
The eggshell fragments were dated using a technique called luminescence dating, ideal for sediments. The shells themselves are too old for radiocarbon dating, so the scientists base the age of the shells on the age of the earth they were found in.
What makes the shells even more intriguing is that they predate any such marked objects found in Europe, for example, by a good 20 000 years and more.
"These markings are extremely early" says Parkington.
That also pushes back the timeline for symbolic thought, which many believe is unique to modern humans. The shells are engraved with a series of patterned markings, the most common one being two parallel lines and cross-lines linking them, a bit like the drawing of a railway line.
Because they appear on so many shells, scientists are concluding that the designs are intentional and not just some chance, impulsive doodling.
But they're not the result of mere copycat drawings, either.
Rather, Parkington believes that the designs- and their variations - have a common meaning among members of the society the 'designers' belonged to something akin to, but not yet, a written language. Some of the ostrich shells, for example, were likely used as water containers, and the designs could well be how the individual owners marked their shells for the benefit of others. (Or even how they indicated what was in the eggs.)
The repetitive use of the patterns suggests a clear tradition of graphic marking, says Parkington. And a form of communication that sets modern humans apart from their predecessors.
"We're dealing here with an early example of, if you like, symbolic messaging," Parkington adds.
"It's generally felt that with modern humans would come an explosion of innovative behaviour. These eggs are one of several examples of that innovative behaviour."
Finding shells at other sites, he notes, could tell how widely that innovation spread.
---
This work is licensed under a Creative Commons Attribution-NoDerivatives 4.0 International License.
Please view the republishing articles page for more information.
---