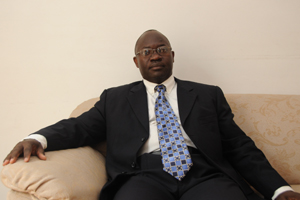 Human rights defender: UCT student Livingstone Sewanyana believes concerted effort is required to combat human-rights abuses in Uganda.
Human rights activists in Uganda have made significant strides to make "oppressive" legal processes more human rights-friendly, but a lot more still needs to be done. So said Livingstone Sewanyana, a UCT doctoral student in public law, at a seminar on the Foundation for Human Rights Initiative, a civic organisation advocating for human rights in Uganda, of which he is the executive director.
The seminar was hosted by the Faculty of Law as part of Celebrating Africa Day. For instance, said Sewanyana, a campaign against the country's death penalty has succeeded in parts. Although execution remains constitutional, the Supreme Court outlawed mandatory death sentences, meaning all laws providing for mandatory sentences have to be repealed. As a result, some prisoners awaiting executions had their sentences commuted to life, or as little as two-year sentences, while others were even released.
Sewanyana noted that the Ugandan government has recently introduced "draconian bills" such as the Anti-Homosexual Bill, the Interception of Communication Bill and the Anti-terrorism Act of 2005.
"These are very oppressive and erode of civil liberties contained in the 1995 Uganda Constitution. We are working around the clock to ensure that these provisions are modified to meet the rights requirement of society."
Lack of independence in the judiciary system, and the weakness and division among the opposition parties are key factors to a continuous abuse of human rights in Uganda, he added.
---
This work is licensed under a Creative Commons Attribution-NoDerivatives 4.0 International License.
Please view the republishing articles page for more information.
---