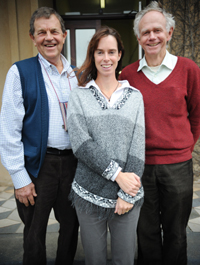 Prof John Field, Dr Lynne Shannon and Prof Frank Shillington.
Funding to the tune of R1.8 million per annum for 2010 and 2011 has been granted to UCT's Marine Research Institute (MA-RE) for launching a new programme under the Vice-Chancellor's Climate Change Strategic Initiative.
The ambitious MA-RE BASICS programme (the more manageable name for the Marine Research in the Benguela and Agulhas Systems for Supporting Interdisciplinary Climate-change Science programme) was officially launched on 11 May, thanks to a proposal titled Marine Multi-Scale Data & Models: The key to predicting climate variability in Africa and its biological & social consequences, which was one of two proposals accepted for funding.
As a result, a number of BASICS postgraduates, ranging from master's students to post-doctoral fellows stand to benefit from the grant.
The goal is completely new for Africa. The MA-RE BASICS programme will develop a system of marine data collection and integration into models that will project biological and physical ocean conditions. This in turn will allow ocean?atmosphere models to improve weather and rainfall projections, and their consequences for society. A system of physical and biological indicators will be developed that will be of practical use in ocean forecasting and fisheries management, with the prospect of better social and economic planning for coastal communities.
This undertaking meets several key objectives of the Vice-Chancellor's Strategic Initiative group, such as positioning UCT as the premier node in African academic networks, promoting social justice and global citizenship, and increasing postgraduate studies to develop the next generation of academics.
---
This work is licensed under a Creative Commons Attribution-NoDerivatives 4.0 International License.
Please view the republishing articles page for more information.
---