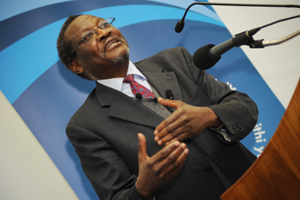 Running forward: Professor Thandika Mkandawire's VC's Open Lecture dissected development in Africa.
"Africa must run while others walk."
Former Tanzanian president Julius Nyerere's words were echoed by Professor Thandika Mkandawire of the London School of Economics and Political Science when he delivered the VC's Open Lecture at UCT on 10 May.
Mkandawire's address, titled Running While Others Walk: The challenge of African development, tackled the issues and obstacles facing the continent on its path of progress.
"Africa is a continent with seven time zones, one billion inhabitants, 53 nations and thousands of languages," said Mkandawire. "One can't speak about Africa without bearing in mind that it's a very diverse continent. But there are issues that concern us all."
These concerns include political conflict, ethnic diversity, the continent's geographical distance from developed nations, and the lack of adequate social capital.
Mkandawire argued that a key factor affecting Africa's development is the perception of Western governments, notably in their "anti-elite bias", which prompts the world to focus on grassroots issues at the expense of higher education.
In the mid-1980s, the World Bank published a study showing that the rates of return on higher education were lower than those for secondary and primary education. The bank then went on a campaign to persuade foreign donors and African governments to stop funding universities, and to channel the funds into primary education instead.
"Most economists believed that African countries had to go through a tough period of hardship and suffering before achieving development," said Mkandawire. "Some countries went so far as to want to close the only university they had, because of this pressure."
According to Mkandawire, this populist view of Africa from people of all political persuasions resulted in the building of barriers to knowledge on the continent.
He noted that many academics were disheartened by the "African failure", prompting them to abandon African studies because it had become too disappointing.
Mkandawire also argued that technology has become an important part of African discourse. "Africa must make huge efforts in developing technology to manage water, energy and the movement of people. It must also respond to climate change.
"There is a sense of urgency," he continued. "Now Africa, more than any other place, must make a quantum leap in its development efforts."(Download the lecture here).
---
This work is licensed under a Creative Commons Attribution-NoDerivatives 4.0 International License.
Please view the republishing articles page for more information.
---