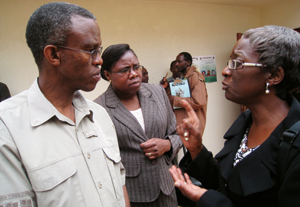 Courting agreement: Delegates at the Kenya workshop share their thoughts on the highly-debated subject of Kadhis' Courts. (Photo by Prof Abdulkader Tayob.)
Professor Abdulkader Tayob headed to Kenya in March for a special workshop, in which he and a group of Kenyan-based scholars met to discuss the role and status of Kadhis' Courts - presided over by judicial officers who adjudicate family matters according to Shariah Law - in that country.
Kenyans have been re-writing their constitution since the early 1990s, Tayob explains, in a bid to decentralise power in a system inherited from colonial times.
One unexpected and contentious aspect of this review has been the provision for Kadhis' Courts (the Swahili word for judge) in the country's legislative framework.
"Some Christians, not all, have argued that these special Islamic courts privilege one religion - Islam - over others," says Tayob, director of UCT's Centre for Contemporary Islam (CCI). "On the other hand, Muslims generally believe that some legal adjudication is absolutely in the practice of their religion."
At the meeting, scholars presented papers on the history of the Kadhis' Courts, their evolution, present roles and the public debate around these courts.
The workshop highlighted the increased activism of Christian and Muslim groups in Kenya, and their impact on political and legal matters that affect nation and state, reports Tayob.
The workshop was organised by the CCI, in collaboration with St Paul's University in Kenya and under the auspices of the centre's National Research Foundation-funded project on Islam, African Publics and Religious Values.
---
This work is licensed under a Creative Commons Attribution-NoDerivatives 4.0 International License.
Please view the republishing articles page for more information.
---