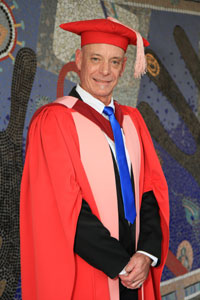 Digging up the past: In his inaugural lecture, Prof Graham Louw spoke of the links between mummification and modern-day dissection.
From mummies...to mummified cats and bulls...and on to dissection
Professor Graham Louw is no ordinary teacher, so it would stand to reason that his inaugural lecture would be something to talk about. Breaking the traditional inaugural lecture mould, Louw gave a fascinating insight to mummification as it relates to dissection for medical science.
In a lecture titled Mummy, the cat has gone missing, does she have a microchip? Mummification - a glimpse into the socio-cultural practice of preserving the bodies of animals, Louw began by explaining how students are introduced to the science of dissection, and its importance in teaching medicine.
Dissection is described as a "rite of passage" for medical students, said Louw.So much so that many anatomy professors refer to cadavers as students' 'first patients'.
Louw explained that, culturally, it is sometimes difficult for students to reconcile their studies with their beliefs, especially those centred around death and burial. For that reason, his introductory course is titled Reflections on death, dying and dissection. Areas covered include where cadavers come from and how human tissue is preserved, and no discussion on preservation would be complete without a lecture on the ancient Egyptian practice of ritual mummification of the dead.
But for Louw personally, no lecture is complete without a mention of animals. Inspired by his volunteer work at a local veterinary practice while still in high school, he originally completed a degree in veterinary science. He went on to do national service, working as a state veterinarian in centres around the country, as well as in the then South West Africa.
He eventually returned to Onderstepoort to do his doctoral degree, which was in developmental neuroanatomy, and went on to teach at Onderstepoort, before making the move back to Cape Town and UCT in 1987.
So it was no surprise to discover that animals featured prominently in Louw's lecture, as he explained their importance in ancient Egyptian culture, from representing gods to their mummified remains being "given or dedicated in fulfilment of a wish, vow or pledge". These votive mummies of ibises, dogs, cats, falcons, rams and even bulls have been found in tombs and temples across Egypt, and many appear to have been treated with as much care and reverence as the bodies of their owners.
"Hundreds of thousands of mummified cats were found at a particular site in Egypt in the 1880s and '90s, and 180 000 were shipped to Liverpool to be used as fertiliser. "Now I want you to remember when you buy cereal that was produced in the UK - the carbon in it comes from mummified cats," said Louw.
He went on to explain that there was much that could be learned from studying these animal mummies - from the degree of domestication of the animals to veterinary practices and the international trade in animals at the time, because several of the mummified animals were either not indigenous to the country, or have since become extinct in Egypt.
Louw closed the loop in his lecture by examining modern rituals relating to animals and death, from animal sacrifice through to taxidermy and having Fido bronzed after he passes on and keeping the remains in the living room.
At the core of Louw's inaugural lecture was the understanding of the need for respect for the dead, both human and animal, and how this forms the cornerstone of the teaching of anatomy.
He ended his talk with the words: "A mind, stretched by new ideas, never regains its original dimensions."
---
This work is licensed under a Creative Commons Attribution-NoDerivatives 4.0 International License.
Please view the republishing articles page for more information.
---