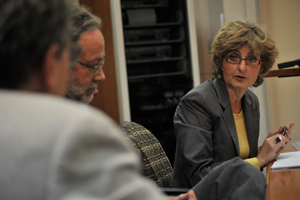 Crime's place in the Sun: Prof Deborah Posel (far right) debates the coverage of crime in the Daily Sun with (from left) Prof Ian Glenn and Prof Jeremy Seekings.
With UCT's growing research interest in the problems of crime, the ongoing Urban Security Seminar Series of the Centre of Criminology looks to again spark scholarly conversation and debate.
And that's just what happened at the series' first seminar for the year, Fatalism and Politics: A look at the Daily Sun's coverage of crime and the versions of living with crime that it depicts and enacts. For the occasion, Professor Deborah Posel, director of the Institute for Humanities in Africa, opened the meeting with a paper on the topic, while Professor Ian Glenn, director of the Centre of Film and Media Studies, and Professor Jeremy Seekings, director of the Social Surveys Unit in the Centre for Social Science Research, gave brief responses.
Posel argued that the Daily Sun - a tabloid based in Gauteng that, with a circulation of just under 500 000 and a self-declared readership of over 3.8 million, is South Africa's biggest daily newspaper - covers crime stories differently than it does all its other content. In contrast to the straight-forward, and even uplifting, reporting on politics and health and sport, the tabloid's crime stories are presented with exaggeration and menace, in everything from writing to layout to the use of fonts.
"What you get in the crime stories are stories of experiences that mark the limits of the orderly and the comprehensible, the limits of human agency; and the seduction of excess," said Posel. "This is a newspaper that narrates a sense of reality that is hyperbolic, kind of over the top."
In turn, Glenn - in the self-described "odd role as defender of the tabloids" - argued that the broadsheets are often little different from the Daily Sun in the way it covers crime, but that they, too, can be accused of filtering crime (perhaps with advertisers and tourists in mind); while Seekings suggested that, if indeed the Daily Sun offers "a window into reality", it is a window and reality that has to be understood and perhaps be taken more seriously.
---
This work is licensed under a Creative Commons Attribution-NoDerivatives 4.0 International License.
Please view the republishing articles page for more information.
---