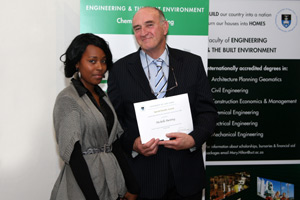 Victorious: Robin Carlisle, Western Cape MEC for Transport and Public Works, presents student Michelle Bunting with a Special Faculty Award for her role in the Mentoring Programme.
Engineering students have an obligation and opportunity to make South Africa work by improving and maintaining the country's ailing infrastructure, according to Robin Carlisle, Western Cape MEC for Transport and Public Works.
At the annual Engineering & the Built Environment (EBE) Awards on 29 April, Carlisle reported that a study by Sakh'Isizwe - a joint project between the Western Cape Provincial Government, the four higher education institutions in the province and the private sector to breed new engineers - has revealed that most municipalities in the Western Cape lack technologists and technicians. This comes as roads are deteriorating, the railway system has largely collapsed, and 400 000 people need to be housed, among other issues.
"These problems need to be solved by engineers," Carlisle told students. "That is your task; that is your future; that is your privilege."
He added that it concerns the government that the "march" from being a graduate to a professional takes too long.
Professor Francis Petersen, dean of EBE, said the faculty always emphasises to students that they should possess five characteristics when they leave the university. These are critical perspective; quality assurance; sensitivity and understanding of critical aspects of safety, health and environment; professionalism; and social responsiveness.
Petersen said the EBE awards, designed to celebrate the excellence and hard work of students, are important for the faculty as a way of motivating people and to thank those who have supported them. Among the winners were Herbert Nyakunuhwa who scooped a City of Cape Town Corporation bronze medal, the Dean's Award and the Chemical Engineering Class Medal; Mathew Gadd took home the Dean's Undergraduate Award, Electrical Engineering Class Medal and the Dean's Award; and Mathew Davey was honoured with Twamley Undergraduate Scholarship, the ED Steytler Memorial Scholarship and Civil Engineering Class Medals.
Also at the event, Special Faculty Awards, John Martin Memorial Prize, Engineering Council of South Africa Medal and Additional Faculty Prizes were presented.
---
This work is licensed under a Creative Commons Attribution-NoDerivatives 4.0 International License.
Please view the republishing articles page for more information.
---