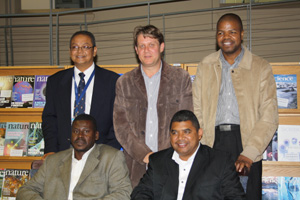 In collaboration: Zukile Jama and Ian van Rooyen (seated) and Assoc Prof Derek Hellenberg, Assoc Prof Clive Chandler and Prof Mbulungeni Madiba co-operated to translate the Clinical Skills Language CD-ROMS into isiXhosa and Afrikaans.
Talk about the launch of the Clinical Skills Language CD-ROMs, and Zukile Jama glows with excitement.
Jama, based in the School of Languages, has co-ordinated the project from the onset, and has seen it overcome the odds to become a potential model for bridging the communication gap, not only at UCT but also in the public and private sectors.
I'm excited about it because it confirms that we can integrate languages and technology as a viable teaching medium," he explains.
A collaboration between the Faculties of Health Sciences and Humanities, the project was designed for the Becoming a Doctor course, which teaches UCT medical students to improve their communication with patients, especially those who speak mostly isiXhosa and Afrikaans.
The clinical skills CD-ROMs have been translated from English into isiXhosa and Afrikaans. It springs from a feedback from students who recommended that the translations be done to assist them with their language learning so they could communicate effectively with patients. By just clicking on the text, a voice comes out to explain its meaning (much like the audio on dictionary.com).
The programme is offered at second- and third- year levels, its ultimate aim to produce graduates who can fluently communicate with patients in all three mother tongues in the Western Cape by 2013. The project is funded by the South African-Norwegian Partnership through UCT's Multi-Lingualism Education Project at the Centre for Higher Education Development.
The CD-ROMs were first translated into isiXhosa in 2008, and Jama said they were well-received by other universities around the country who would like to use them as a model for other African-language teaching.
Developing it was no child's play, though.
Jama and his three-member team had to consult extensively with clinicians to understand some of the medical jargon, and had to coin appropriate words. And the technological expert, who matched the text with the voice recordings, was not an African-language speaker, which meant the process took longer than expected. But it was all worth the while as the CD-ROMs have created excitement among staff and students, and the MLEP wishes to roll it out to other faculties and departments.
Jama believes the product can also be improved so students can do their own recordings and be able to compare themselves with the native speaker thus improving their proficiency.
Ian van Rooyen headed a team that was responsible for the Afrikaans translation that was completed last year. He said the programme is a symbol of integration and transformation, and has been designed to be accessible to even people with no computer knowledge.
Professor Marian Jacobs, dean of health sciences, said the programme has put languages in a clinical context, "something that is novel and highly commendable". She said the CD-ROMs also meet the university's strategic goal of social responsiveness.
---
This work is licensed under a Creative Commons Attribution-NoDerivatives 4.0 International License.
Please view the republishing articles page for more information.
---