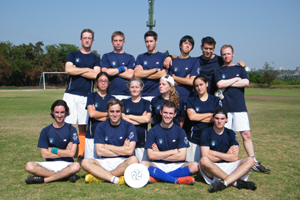 Intercept: Coach Ant Pascoe fails to stop Jon Aronson as UCT prepares for the nationals next week.
Watch 20 minutes of a game of Ultimate and you understand why Jon Luies of UCT's nine-month-old Ultimate Club cautions that players have to be agile and - no understatement - super fit.
Some basic background first. Ultimate is a fast-paced, little-contact sport played by two opposing teams of seven players a side using a 175 gram flying disc. (The disc is why the sport is sometimes called Ultimate Frisbee, which it shouldn't because the disc used in the game is not of the trademarked ilk produced by toymaker Wham-O, but a slightly different version - with a softer curved edge - made by archrivals Discraft.)
The sport, as its wrongful name suggests, involves plenty of pin-point disc throwing and catching. But it also incorporates the principles of a few other sports. For example, the aim of the game is to get the disc into your opponents' end zone, à la rugby or American football (you needn't press the disc down, though, as you would in rugby), and games go up to 15 or 17 points.
Then there's the one-on-one marking, much like in basketball or netball; although, as in netball, the player in possession of the disc is not allowed to take a step until he's released it. As in basketball, the player in the possession of the disc has a limited time to pass it to a teammate, in this case 10 seconds, counted down by the marking player.
Which leads us to the sport's quirkiest feature: no referees or umpires, even at the game's highest levels such as its World Games. That self-officiating feature - so no motor-mouthed 10-count - is why the sport is renowned for its 'Spirit of the Game'. (Out, too, goes taunting, dangerous aggression or intentional fouling. Soccer players prone to fainting spells in opponents' goalmouths may wish to steer clear.)
"In refereed sports - and I'm not knocking refereed sports - the attitude of the players is very much, what can I get away with and what can I try and get out of the referee," says Luies (pronounced Lewis), the club's development officer. "Whereas in Ultimate, the vibe is very much, if I make a call that is bad, everyone knows that it's a bad call."
And what with the amount of jockeying for position - attacking players running into open space to receive the disc, defenders trying to keep up with them to intercept the disc - there's little energy to waste on bad calls. Played down the full length of a rugby field, that adds up to a lot of running.
"Out of all the sports I've played - and squash was a big favourite - I've never had to be so fit in my life," says Luies. "You're literally running short sprints for about an hour and a half."
The two UCT teams play against five other clubs in Cape Town. Next week, UCT and those clubs will go up against teams from across the country plus two Southern African nations in the Eighth National Championships, hosted by the South African Flying Disc Association (visit www.safda.org.za) at Bergvliet High School from 30 April to 2 May.
UCT doesn't count among the favourites, perhaps, but is no wooden-spoon team either, says Luies. The more players, though, the better the club will get, so anyone interested in joining can contact him by email.
Just be sure you're ready for plenty of running, though.
(Sponsorships are hard to come by in the sport, says Luies, but the UCT club has been fortunate enough to attract a few, with the likes of New Balance, Robert Daniel, Second Skins and Jack Black Beer lending financial hands.)
---
This work is licensed under a Creative Commons Attribution-NoDerivatives 4.0 International License.
Please view the republishing articles page for more information.
---