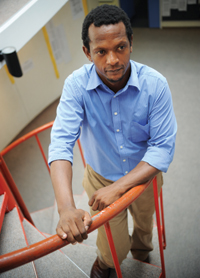 Higher ground: Dr Federico Settler will explore the implementation of the National Policy on Religion and Education.
Postdoctoral research fellow Dr Federico Settler is very deliberately breaking personal new ground with his recently-launched project in UCT's Institute for Comparative Religion in Southern Africa.
It was while finishing off his doctoral research and picking up a handful of courses on public policy at ivy league Harvard University in the US that it occurred to Settler (39) that most of his academic work - on black studies, religion and identity - had been of a documentary nature. Which translates to countless hours in libraries.
"I suppose I was struck by the fact that I had this gap in my education, that I hadn't done any empirical or applied research," he says. "That I'd been reading books about books, and more books about those books."
Over the next two to three years, Settler plans to put that right. He's just launched his postdoctoral study on the implementation of the country's National Policy on Religion and Education, and will aim to answer a few questions - how has it been implemented, and has it achieved its goals of reducing prejudice and increasing tolerance?
The work, with honours student Lee Scharnick, mailing, will involve following up on and making sense of reams of questionnaires; interviewing teacher educators, trainee teachers, practising teachers and learners; and performing classroom observations in three provinces.
Settler's work follows in the footsteps of colleagues at the institute, notably Professor David Chidester, who has made an enormous contribution to religion education policy in the country. And religion education - as opposed to religious education - is a minefield of extremes. Some schools, for example, still oblige their learners to recite the Christian prayer, while others simply haven't bothered to teach the subject at all.
Both practices, says Settler, are in violation of the policy, which aims to educate learners about diverse cultures and religions - and, accordingly, about diversity and tolerance and good citizenship - without privileging any particular religious tradition.
In a few years, Settler hopes to be able to tell if and how the introduction of this policy in South African schools has been able to contribute to a more critical and tolerant citizenry.
---
This work is licensed under a Creative Commons Attribution-NoDerivatives 4.0 International License.
Please view the republishing articles page for more information.
---