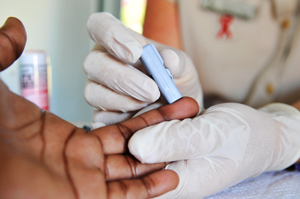 The national student HIV prevalence is 3.4%, according to the results of a survey to establish HIV prevalence at higher education institutions in South Africa.
However, the prevalence for the sample of students and staff at UCT was low, at 0.2%.
The survey was initiated by the Higher Education HIV and AIDS Programme (HEAIDS), a division of Higher Education South Africa. The results were released at the beginning of April.
"This is excellent news, though there is some bias in the study," vice-chancellor Dr Max Price wrote in a communiqué to the UCT community. "Moreover, some worrying trends still constitute serious risk factors for contracting HIV."
A total of 1 574 people participated in the survey at UCT, including 1 005 students, 113 academic staff and 420 PASS staff. The prevalence for academic staff, staff in payclasses 1 to 4, and students, ranges between 0.1% and 0.5%. The proportion of administrative staff (payclasses 4 to 13) who tested positive for HIV/AIDS is likely to be between 0.7% and 2.6%.
"There are some limitations we need to note," added Price. "The survey revealed that 75% of sexually active students have been tested and know their status. This is extremely positive; it reflects the success of the strategy of the UCT HIV/AIDS Co-ordination Unit (HAICU) and the voluntary counselling and testing practices co-ordinated by the Student Wellness Service on campus.
"However, the fact that a high number of people know their status exacerbates the bias of the study: people who have tested positive in the past tend not to make themselves available for retesting. So, with such a high level of testing at UCT, the chances are that many people who know they are positive would have opted not to participate in the survey. The non-participation rate in the survey was 25%, so the prevalence rate at UCT is probably a little higher than the ranges expressed above."
Another limitation is that the study acknowledges that "the overall sampling method was designed for a national-level study, and alternative sampling approaches should be considered in a study design focusing only on a single institution".
There were other pleasing findings, Price said, such as the fact that the majority of students reported using condoms (61%) and made positive comments on condom availability. General knowledge on HIV/AIDS was good, but knowledge on emergency measures (that can be used after rape, for example) was not as good.
"We therefore have to ensure that we publicise these facts more broadly. Participants also indicated they were pleased about campaigns being run on campus; it signalled to them that the university was taking the matter of HIV/AIDS seriously."
Other results were of greater concern. There was evidence of a fair proportion (between 3% and 8%) of people reporting that they had experienced sexually transmitted infections (STIs) in the three months before the survey.
"We know that STIs are a high-risk factor for HIV. It indicates that the use of condoms, which prevents STIs, is still not high enough," said Price. "Our awareness campaigns should therefore continue to focus on the prevention of STIs and HIV through condom use, among other options."
Another concern was the students' reported use of alcohol to the point of drunkenness. More than half of all students (54%) and around 19% of staff reported being drunk in the past month.
"There is an obvious link between being intoxicated and risky sexual behaviour, and given the high prevalence of this risk factor we need to consider ways to encourage more moderate consumption of alcohol."
Six percent of male students and 3% of female students reported having had more than one sexual partner in the past month, so UCT's awareness campaigns should continue to highlight the dangers of concurrent sexual relationships.
Last year HAICU hosted a panel discussion and another public event on this issue, as well as several workshops in residences.
"There is also evidence that many students were involved in sexual activities with partners who were not from the UCT community. This is another reason why we should note that the low prevalence on campus is not necessarily diminishing risk," said Price.
In the survey, students (50%), staff for academic and payclasses 1 to 4 (58%), and staff for payclasses 5 to 12 (41%) said they did not know whether their peers would support them if they became HIV-positive. This indicates that UCT should continue campaigns and events to discourage stigmatisation, though the report does say that "stigmatising attitudes towards HIV-positive people are not widely held".
The report encourages UCT to increase its integration of HIV and AIDS education in academic programmes. Much is already being done in this regard, and new HIV/AIDS courses are being piloted in two additional faculties this year. Compulsory examinable courses already exist in two other faculties.
"The survey is important, as it establishes a useful baseline," said Price, "and the report guides us on where interventions should be targeted at UCT. Importantly, the study suggests that the UCT strategy for fighting HIV/AIDS is on the right track, achieving the desired results. We should therefore continue our efforts along similar lines."
(The report on the results of the UCT survey is available here).
---
This work is licensed under a Creative Commons Attribution-NoDerivatives 4.0 International License.
Please view the republishing articles page for more information.
---