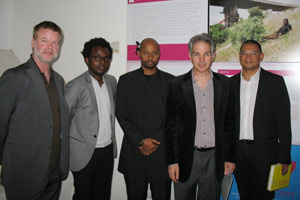 Shifting ideas: At the launch of Counter-Currents: Experiments in Sustainability in the Cape Town Region were (from left) Assoc Prof Richard Calland (Faculty of Law and Mail & Guardian columnist), Tau Tavengwa (design and project co-ordination); Mokena Makeka; VC Dr Max Price and editor Prof Edgar Pieterse.
Tuesday 6 April saw the book launch and exhibition opening of Counter-Currents: Experiments in Sustainability in the Cape Town Region. Edited by Professor Edgar Pieterse, director of UCT's African Centre for Cities, Counter-Currents showcases bold urban development initiatives by both the state and the private sector and aims to shift public ideas and discourses about the future of Cape Town.
The starting point of this initiative is that the nature and direction of Cape Town's physical metamorphosis is unsustainable and culturally questionable, if not inappropriate. However, amid the expansion of real estate, a number of very important "counter-currents" are afoot (as plans or interventions or sometimes, only dreams).
These represent both a critique of unimaginative urban growth and hold the seeds for putting Cape Town onto a "unique and culturally resonant" growth path; a precondition for creating a more inclusive, vibrant and sustainable city at the southern tip of Africa, one at ease in its own skin.
Contributors to the volume include David Schmidt; Ashraf Jamal; Abdoumaliq Simone; Karen Press; Stephen Boshoff; Wendy Crane; Mark Swilling; Lisa Thompson-Smeddle; Martin de Witt; Herrie Schalekamp; Barbara Southworth; Andrew Borraine; Lucien le Grange; Nisa Mammon; Mokena Makeka; Luyanda Mpahlwa; Tau Tavengwa; Tanner Methvin; Dave Dewar; Piet Louw; Iain Low; Susan Parnell; Greg Clarke; Mark Swilling; Gita Goven and Catherine Stone.
Vice-chancellor Dr Max Price introduced the book and said: "It presents serious problems on sustainability and gives real solutions."
Pieterse added: "The book aims to be provocative to start a debate on a sustainable city that can serve us all."
The exhibition will be on until 11 May at the Cape Town Institute for Architecture. There will be two debates on aspects of the book, which will take place at the institute. Theses are: leadership and the City on 19 April and Designing Alternative Futures on 6 May. Both will be held at 17h30 for 18h00.
More information can be found on the African Centre for Cities website.
---
This work is licensed under a Creative Commons Attribution-NoDerivatives 4.0 International License.
Please view the republishing articles page for more information.
---