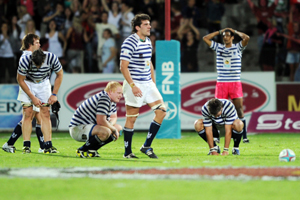 All over: UCT players are dejected as the final whistle goes.
Their FNB Varsity Cup defeat of 14-17 in the final against Stellenbosch University, in Stellenbosch on Monday, stung UCT's Ikey Tigers a little more than most.
That's because, as coach John Dobson pointed out afterwards, UCT's performance in this year's competition had promised more. For once, everyone believed the Tigers would go all the way and wrench the trophy from the home side's iron grasp.
"We had expected to win this one," said a red-eyed Dobson. (And Dobson wasn't the only one in the UCT squad to shed a few tears after the match.)
In the end, playing in front of some 20 000 students (unofficial count), most of them supporting the home team, the indomitable Maties bagged their third successive Varsity Cup title in the competition's first three years. With this victory, they also cemented their reputation as the best university team in the country.
And the speed with which they got out of the blocks - two tries in the space of two minutes and a 12-3 lead within 10 minutes of the start - suggested they were going to romp home.
But UCT again proved that they are the only side in the Varsity Cup that can go toe to toe with the defending champions. Despite Maties' territorial domination in the first half and for all their enterprise, barely allowing UCT into their half, it was quite remarkable that by half time they had managed only a wholly unremarkable 12-6 lead. (Two long-distance penalties by Doug Mallett and Marcel Brache keeping UCT in the hunt.)
And just as the Tigers had hoped and planned, Maties ran out of steam with about 10 minutes left in the game, leading by just 17-9. ("Many teams play 70 minutes - we play 80 minutes," says Professor Tim Noakes, who had been working with the UCT squad this year.) Which is when the home side's defence, which by then had not let in as much as a draft, began to show cracks.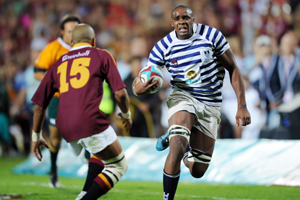 Hope: A late try by Samkelisiwe 'Sam' Peter - here about to run over Maties' fullback Adnaan Oesman on his way to the goal line - took UCT to within three points of Stellenbosch. But it was a bridge too far for the Tigers.
And as UCT piled on the pressure, long-limbed Samkelisiwe 'Sam' Peter, coming on as a substitute, bulldozed his way over a cordon of defenders to touch down in the corner. At 14-17, UCT had reduced the deficit to just three points, and looked mostly likely to score again.
Alas, the Tigers coughed up crucial passes in the dying moments of the game and a tiring Maties held on, much to the relief of their supporters.
"Our game plan was to be in the game with 10 to go," revealed Dobson. "Our plan went reasonably well."
But it was Maties' ferocious first-half defending and those two quick-fire tries that put UCT on the back foot, reported full-back Therlow Pietersen, one of the side's star performers on the evening and during the entire campaign.
"They did their homework and put us under a lot of pressure."
But UCT didn't go home empty-handed. The team pocketed R150 000 as tournament runners-up, while JJ Gagiano was named Man of the Match, his third such honour this season. (The match was, sadly, his UCT swansong.)
While the defeat may be disappointing, the Tigers went up against more than just 22 players on the night, Noakes points out.
"Rugby is such a part of the culture here at Stellenbosch. It's a 100-year culture."
That's illustrated by the kinds of investment that Stellenbosch University has made in rugby. Like a top-notch stadium. And a pre-match party - including a performance by Afrikaans-music icon Kurt Darren - that again highlighted the competition's rising star on the rugby calendar.
And while it may have its critics, the Varsity Cup has in its three years changed a few perspectives at UCT. Suddenly rugby is taken a little more seriously.
"I think the culture is beginning to change at UCT," said Dobson. "The university's support is getting bigger every time."
And with that title still not won, Dobson's rethinking his plans to go coach in Italy.
Roll on 2011.
(To check out pictures from UCT's previous Varsity Cup games, check out our Flickr page. This will be updated with shots from last night's game - and party - forthwith.)
---
This work is licensed under a Creative Commons Attribution-NoDerivatives 4.0 International License.
Please view the republishing articles page for more information.
---