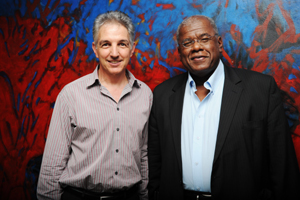 Face off: Dr Max Price (left) and Prof Jonathan Jansen.
What does it mean to lead on divided campuses?
This was the theme of the evening as vice-chancellor Dr Max Price shared the stage with the outspoken vice-chancellor of the University of the Free State, Professor Jonathan Jansen, on 9 March.
First at the podium was Jansen: "It's absolutely crucial for a leader in higher education to recognise the problem of distance between black and white. Unless you recognise that, you will not understand the enormous tension, pain, aggravation and bitterness that continues to exist on campuses across this country."
Jansen outlined the differences between co-habitation and integration, arguing that leaders can't force students to be together in a social sense: "While our campuses are desegregated, I don't know of a campus in South Africa that is integrated," he noted.
He added that students are alienated by a leadership that self-righteously lectures them on race relations, especially if they're not setting a credible example as leaders themselves.
In building a sense of non-racial community, Jansen argued, leaders have to take both black and white communities into account, and learn to understand their anxieties and fears.
"Unless you, as a leader, can feel and deal with that emotional distress on each side of the equation, you will not be able to lead a student body that overcomes the sins of their fathers together."
Price noted that transformation on different campuses, specifically at English- and Afrikaans-speaking universities, faced different challenges. Where Afrikaans universities have to overcome a huge ideological shift, their English counterparts faced a sense of smugness in the belief that this transformation had already successfully occurred in the '70s and '80's.
"Our challenge is to persuade staff and students that there's a problem that still has to be fixed," he said.
He argued that universities could play a key role "in creating transforming agents who graduate from us".
"We can expose students to inequalities in the society around us; we can expose them to debates addressing that, and we can try to influence their values and commitment."
Another key role for Price is 'the knowledge project': what is taught, what is excluded and what opinions are promoted in the students' academic life.
"Transformation also includes creating a curriculum and a research focus that helps students to identify with their own heritage and culture, so that they don't always feel alien in that environment."
Price noted the importance of institutional climate in transformation.
"This, I think, is the toughest challenge because it's the most difficult to put your finger on. It's in the air we breathe and the buildings we work in."
He described subtle "micro-environment behaviours", such as ignoring certain people in meetings, that make people feel excluded.
"It's the role of leadership to be tuned in to these behaviours, and to highlight them in a gentle way," said Price.
The forum was hosted by former Minister of Education, Professor Kader Asmal. Download a podcast of the event..
---
This work is licensed under a Creative Commons Attribution-NoDerivatives 4.0 International License.
Please view the republishing articles page for more information.
---