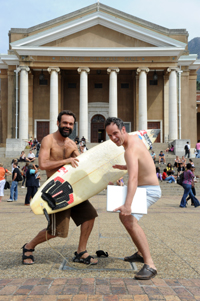 Cyber surfers: Head of IS, Prof Jean-Paul van Belle, and alumnus Sam Paddock, creator of the UCT Internet Super-User course, which will enable people who have limited experience of the internet to catapult themselves across the digital divide
When Sam Paddock was a UCT information systems (IS) honours student he envisioned a "virtual campus" where prospective students could complete short courses without needing to set foot in the classroom.
This dream will become a reality for the IS graduate when he launches the first online course for the Faculty of Commerce next month.
The UCT Internet Super-User course will enable people who have limited experience of the internet to catapult themselves across the digital divide.
"If you use email and surf the web, but want to use tools like Google, Skype, Wikipedia, Google Earth, Facebook, Twitter, PayPal, uStream or blog like the professionals, then this course is for you," says Paddock.
Students on the course will become familiar with the wealth of benefits the internet offers.
For Paddock, managing director of GetSmarter, a specialist online training company, the logical partner for this course was the UCT IS department with its "reputation for innovation and excellence".
Head of Information Systems, Professor Jean-Paul van Belle, said: "It's important for us to consider options of making expertise and intellectual resources available to a wider community. E-learning has the potential to deliver optimised learning resources more efficiently than face-to-face teaching, thus enhancing quality while lowering cost."
This short course is not a replacement for existing courses, but complements by broadening the student base to students who can't - or don't want to - become full-time residential students.
"Hopefully, the experiences gained from offering this online short course will feed back into our existing face-to-face (F2F) courses," said Van Belle.
"For dealing with large student numbers, F2F is still a very cost-effective way of delivering curriculum content, whether it's the educationally best manner is up for debate.
He said the department had taken a strategic decision to support Open Educational Resources and open content where ever possible.
Founder of GetSmarter, Paddock recalled that his dream of a "virtual campus" began in his honours year in IS when he and his team created an e-learning system, complete with a virtual classroom that allowed students and teachers to talk to one another via their computer microphones. Not only was it good enough to earn him a mark of 93%, but it also attracted the attention of global management consulting company, Accenture, and a job that took him to Ireland for a time.
(The 10-week course is due to start on the 12 April and registrations close on the 31 March. Please contact Deborah on 021 685 4775 for further information.)
---
This work is licensed under a Creative Commons Attribution-NoDerivatives 4.0 International License.
Please view the republishing articles page for more information.
---