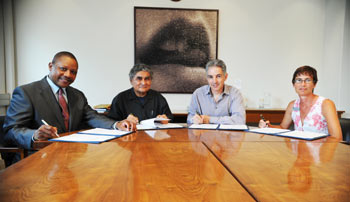 New friends: Signing the dotted lines on two memoranda of understanding between UCT and Eduardo Mondlane University were Prof Armando Dimande, dean of the faculty of law at UEM; UEM rector, Prof Filipe Couto, UCT vice -chancellor, Dr Max Price; and Prof PJ Schwikkard, dean of the Faculty of Law at UCT.
The Faculty of Law is trailblazing the Afropolitan path, signing a Memorandum of Understanding (MoU) with Eduardo Mondlane University (UEM), Mozambique's oldest and largest university, at UCT on 10 March.
Actually, UCT signed two such MoUs with UEM on the day. The first - initialled by UCT vice-chancellor, Dr Max Price, and UEM rector, Professor Filipe Couto - is an overarching one, pledging the two universities to broad collaborations and staff and student exchanges.
The second one is more specific, built on a standing partnership between the universities' faculties of law. Since first making contact at the First International Conference on Regional Integration Issues and SADC Law, held at UEM in April 2008, the faculties have been collaborating around that common theme.
As UEM has a centre dedicated exclusively to the topic, research and teaching exchanges have proved invaluable to UCT, says Professor Evance Kalula, deputy dean for internationalisation and development in UCT's Faculty of Law, responsible for striking up such partnerships with African institutions. Such has been the strength of the UEM collaboration that UCT launched a master's course in regional integration and SADC law in 2008, based in large part on UEM's work.
That programme has taken off with a bang, with 24 students already signing up - a sizeable number for any LLM course, observes Kalula. In addition, an undergraduate course has also attracted a dozen or so students.
But it's not a one-sided relationship, notes Kalula. UCT has plenty to offer UEM- as Couto noted as well - and will be offering assistance in developing young, emerging researchers there, posting its academics to teach and work in Mozambique, and helping with curriculum development.
It's that kind of two-way that traffic bodes well for the MoUs.
"Agreements like this do not add up to anything if we haven't started to do something concrete," said Couto at the signing. "This is something which is just confirming what we are doing already.'
The occasion was a memorable one for Price as well, as it's the first MoU he's signed with an African university since taking the helm as UCT vice-chancellor in 2008.
"It's an important development for us because we're trying to strengthen our links with African universities, more than we've done in the past," he said. The agreement with UEM would also, perhaps, spark contacts with other Lusophone countries in the Southern Hemisphere, added Price.
---
This work is licensed under a Creative Commons Attribution-NoDerivatives 4.0 International License.
Please view the republishing articles page for more information.
---