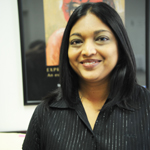 Chyanne (aka Anne) Isaac has been appointed as legal counsellor in the Office of the Registrar, serving in the Legal Services and Secretariat section.
Isaac, a graduate of the University of KwaZulu-Natal, moved to Cape Town from Durban, where she had been working as a prosecutor for some 11 years. Outside of the office, she spends plenty of time contributing to the functions of Soroptimist International South Africa, an organisation that works to advance human rights and the status of women through a score of service projects.
She also collects the works of children's author Enid Blyton, but - she points out - only those works actually penned by Blyton.