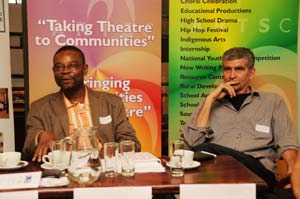 Making history: Attending the Métissages/Mixing Cultures media launch was (from left) Prof Harry Garuba of the Centre for African Studies and Prof Jean-Louis Cornille of UCT's School of Languages.
No direct English translation for the French word 'métissages' would fully explain the concept, but it could be described as those spaces where blending occurs.
This was the focus of a two-day Métissages/Mixing Cultures conference hosted by UCT's Centre for African Studies and the French section of the School of Languages and Literatures from 18 to 19 February, in partnership with Alliance Francaise, Artscape, and Paris VII University.
The conference featured presentations by researchers from Africa, Asia, Europe, Saudi Arabia and the US, examining cross-cultural encounters from different eras, deconstructing gender and race stereotypes. South Africa's coloured identity also came under the spotlight.
The conference also served as the platform to introduce the Mitchell's Plain Oral History Project, a partnership between Alliance Francaise and Artscape, and supported by the French Embassy and the Department of Social Development.
Central to the project is the publication of a book to be launched in 2011, which will unfold the histories - and herstories - of Mitchell's Plain and its people. The book will recognise those who contributed to the development of this community, and inspired many others. The project is also about those who have taken the baton to continue developing it into a place of hope and possibilities, and shifting the perspectives of Mitchell's Plain as a place of poverty, violence and despair.
For more information on the project visit Alliance Francaise website. The book on Mitchell's Plain will be based on nominations appointed by the community. Contact Nolan at Artscape by email, or telephone: 021 410 9800.
---
This work is licensed under a Creative Commons Attribution-NoDerivatives 4.0 International License.
Please view the republishing articles page for more information.
---