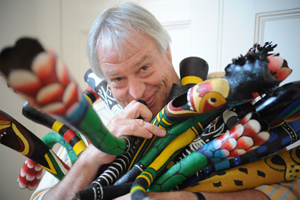 A blast: Marketing Manager Murray Steyn tries out some of the local kelp vuvuzelas being produced for the soccer world cup.
UCT has pulled together all its resources to conclude a grand plan that will offer over 3 500 "secure and affordable" rooms to accommodate visitors during the 2010 soccer world cup.
But what makes the university's contribution to the world's single biggest sporting event even more worthwhile is not just the potential income, but the opportunity to promote the UCT brand, firm up UCT's relationship with the City of Cape Town, and to leave a number of lasting legacies.
The latter will include an improved vacation accommodation system, which is being upgraded; training and employment opportunities for students; and Mr Delivery, one of UCT's partners in the enterprise, has agreed to continue with a residence room delivery service system after the event.
This week, Cape Town Tourism welcomed UCT as a member, which will allow the tourism body to refer accommodation queries to the university.
Project manager Professor John Simpson is adamant that benefits are inevitable.
"Many UCT employees are giving their time towards the project, and students will be employed and learn more about the hospitality industry," he says. "Directly and indirectly we will achieve a lot, and UCT will be a better place after the tournament."
Marketing manager Murray Steyn says the university's contribution is in response to numerous requests from interested parties to provide affordable, safe, accessible and well-located accommodation during June and July 2010.
UCT also wants to add value to the experiences of visitors by offering the services of its large fleet of buses, the Jammie Shuttle, as well as other benefits such as access to UCT's gym and other facilities.
"UCT's campus is located below the slopes of Table Mountain and is relatively close to all that Cape Town and the Western Cape have to offer - including the City Bowl, the V&A Waterfront and the Green Point Stadium."
The university has joined forces with hotel management company Urban Hip Hotels to manage and market Campus Accommodation 2010, which includes other universities in South Africa. To minimise costs, UCT is outsourcing various services to a range of suppliers such as Fedics catering company and Mr Delivery, Steyn says.
The variety of accommodation that is on offer between 9 June and 13 July will cater for individuals, families and large groups especially.
Clients will enjoy a comprehensive transport plan that has been put in place through the Jammie Shuttle service. This will include airport and match-day transfers, as well as local area and residence transportation. Also, UCT's on-campus security system is being upgraded to include more security personnel and residence monitoring marshals. The disaster management system is in line with that of the City of Cape Town.
Other value-added services will include breakfast and other meals, food outlets, pubs with live and recorded television viewing, 24-hour medical emergency services, laundry and ATM facilities, as well as general shopping services available in nearby Rondebosch.
In the end, it all boils down to marketing UCT throughout the world and hopefully making some money at the same time. "We want our brand to be well received by visitors," Steyn adds.
Prices start from R550 per person per night, excluding VAT.
(For reservations, contact: Urban Hip Hotels - Jackie Ardinois at 0861 226 787; University of Cape Town - Celeste Gaskin at +27 (0)21 591 1260; or visit the UCT website.)
---
This work is licensed under a Creative Commons Attribution-NoDerivatives 4.0 International License.
Please view the republishing articles page for more information.
---