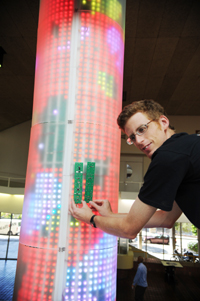 Light up: Electrical engineering lecturer Samuel Ginsberg was one of the creative minds who contributed to putting up the exhibition.
The glittering lights on a pillar in the Leslie Social Science Building make for a spectacular sight, more in keeping with Christmas lights in Cape Town's Adderley Street over the festive season than with an academic occasion.
But unlike the Christmas lights, the Bits, Bites and Tweets artwork is not seasonal, and will flash permanently to commemorate the Summer School's 60th anniversary.
The exhibition is a collaboration between the Centre for Extra-Mural Studies, organisers of the annual Summer School, and artist Gwen Van Embden, and was built by a multi-disciplinary team of engineers, computer scientists, professional exhibition creators, artists, and anybody who could be persuaded that this would be an interesting way to spend their time.
Built around the tallest pillar in the building, the "living electronic artwork" is made up of 10 000 LED tiles or lights.
Each light represents one of Charles Darwin's finch species, and each species has its own colour. Lights flashed different shapes and colours whenever a Summer School student swiped their student card through a card reader.
"It's amazing how complex behaviour is achievable with such simplicity when applied over a large area," says computer science student Richard Baxter, who wrote the computer program for the LED display.
The circuit boards were assembled by a contract assembly company, and were set up by electrical engineering lecturer Samuel Ginsberg and third-year electrical and computer engineering student Mallin Moolman. The project started in September last year.
Though the electronics aren't very complex compared to some other designs, says Ginsberg, there were challenges such as time and budget constraints. The pillar is also very tall, and much of the work was done from a scaffold. That was not all. "The appearance of the display is crucial, and so all potentially messy wiring had to be very carefully thought out so as not to be excessively visible, and the mounting of the boards had to be straight and neat."
Meanwhile, the Summer School once again lived up to its crowd-pleasing reputation, with many of the 2 600 attendees even learning to use Twitter.
"This is my 40+ Summer School - still love every minute of it. And I'm even tweeting now - wow!!" said one.
"My first Summer School and it is everything those who told me about it said it was, and more– I am definitely hooked!" claimed another.
The school was attended by participants from as far afield as England, Canada, Monaco and Swaziland, and some participants staying in Fuller Hall during Summer School were reminded of residence life in their student days.
---
This work is licensed under a Creative Commons Attribution-NoDerivatives 4.0 International License.
Please view the republishing articles page for more information.
---