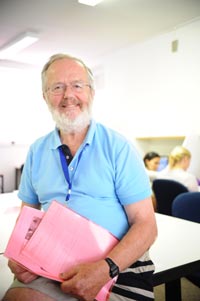 Action: The mass extinction of species may be looming, but much can still be done to save endangered species, said Prof Norman Myers.
If the bulk of Professor Norman Myers' Vice-Chancellor's Open Lecture on 10 February was of the doom-and-gloom type - as would happen when the topic is the mass extinction of species - then he did at least bookend his narrative with a few words of hope and inspiration.
First, though, the doom-and-gloom bit: humans are currently witnessing the onset of the greatest mass extinction of species since "we came out of our caves ten thousand years ago", said Myers, a fellow of The James Martin 21st Century School and the Said Business School at Oxford University. Under threat, in particular, are 34 'biodiversity hotspots' '" a concept that Myers coined in the late 1980s - around the globe, regions that are rich in endemic species and also have a high diversity of species, but are under threat from global warming, the loss of habitat and the extinction of species.
South Africa has three such hotspots, more than any other country, Myers reminded the audience. Table Mountain, for example, has over 1 000 plant species, of which several dozen are found nowhere else in the world. In turn, the Cape Peninsula has 2 700 plant species, of which 161 are endemic.
But around the world, species - many whose value and role humans do not yet fully understand - are dying out.
"Plainly, plainly, we are losing the game," said Myers.
The causes are manifold, he explained, listing among these commercial logging, triggered in part by the booming hamburger trade of the 1960s; and the "perverse subsidies" - for coal mining in Germany, for example - that damage both the environment and the economy.
But Myers' take-home message was more upbeat.
"I do strongly believe that we could back this mass extinction process into a corner, beat it to its knees and get on top of it," he said at the start of the lecture. "We are the only generation," he wrapped up at the end, "that will ever have this glorious opportunity to save life's abundance in such huge amounts."
---
This work is licensed under a Creative Commons Attribution-NoDerivatives 4.0 International License.
Please view the republishing articles page for more information.
---