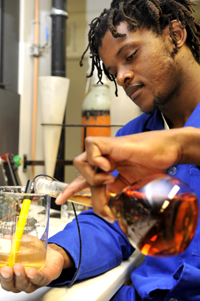 Two of the major international university rankings have, without fail in recent years, singled out UCT as the foremost African university, placing it well ahead of its national and continental peers.
In 2009, UCT jumped 33 spots up The Times Higher Education University Rankings (formerly The Times Higher Education-Quacquarelli Symonds World University Rankings), where at number 146 it's the only African university listed in the top 200, while it's is also the leading African university in Shanghai Jiao Tong University's Academic Ranking of World Universities (ARWU), earning a spot in the 200-300 cluster. (ARWU doesn't award individual spots beyond the first 100).
The university has been cautious in its communications on the rankings, refraining from any unbecoming swagger, other than the occasional Monday Paper front-page piece.
It's not just modesty that tempers the celebrations. University rankings remain controversial, and UCT remains mindful of ranking systems' shortcomings. Notable here is the weight (all of 40%) given to the necessarily subjective peer reviews – which measures an institutions' reputation – in the Times ranking, and the rankings' sometimes limited indicators.
"For universities in the Global South, many of the things that make us special and world class are not necessarily tangible," says Dr Marilet Sienaert, director of UCT's Research Office.
There's also a bias in favour of the physical sciences at the expense of the humanities. On the other hand, when the rankings come out, the humanities can also bask in the moment's glory, explains Professor Joe Muller, deputy dean responsible for research and postgraduate affairs in the Faculty of Humanities.
"That is because the ratings apply to the whole institution, and the humanities benefit from a sort of halo effect," he says.
So gripes aside, it's hard to overlook the value of a decent, media-bandied ranking. As UCT has found.
"It's clear that, although universities are sceptical about it, at the same time everyone recognises that people look at these rankings, and that they have an effect and that they do influence behaviour," says deputy vice-chancellor for research, Professor Danie Visser.
'Everyone' meaning parents and prospective students, donors, international universities on the lookout for prestigious partnerships, and academics scouting for a place from where to make their mark on world academia.
The ratings "signal" that comes with UCT's steadily improving ratings "is critical in a globalising higher education terrain where competition – for research and donor funding, for good academics, for good students – is hotting up," notes Muller.
So UCT is taking a proactive approach to the issue. Following a dedicated indaba, the University Research Committee has drawn up a framework on how the university will respond to and engage with these rankings. Faculties have been asked to develop benchmarking standards that will allow comparison "in a meaningful way", says Visser.
So it won't be a case of how to keep UCT's upward momentum going on the ranking systems. Instead, the university is using the opportunity to emphasise the need for good benchmarking that does not treat science, engineering, social science and humanities as if they are the same thing, explains Sienaert.
UCT also needs to identify matching universities in the Global South, which means UCT can then compare apples with apples.
"We will always keep the north in mind, but with the benchmarking we want to see what role we can play in relation to countries like China, India and Brazil, to see how we could become the preferred partner in the South," she says. "To do that, we need to compare ourselves with strong institutions in the South."
To this end, UCT has now joined an international survey platform group that aims to develop ranking surveys that are properly targeted and have large representative samples, reflecting views from all corners of the world.
So no headlong dash to scale the greasy pole of international rankings at all costs.
"Rather, what we want to do is perform better in those criteria that we consider to be valuable," says Visser.
---
This work is licensed under a Creative Commons Attribution-NoDerivatives 4.0 International License.
Please view the republishing articles page for more information.
---